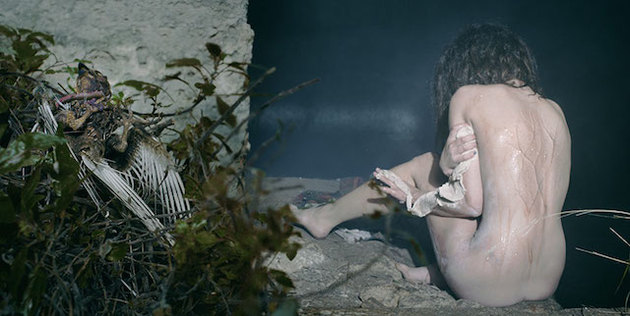 When it comes down to brass tacks, you could call Spring (opening tonight at the Grand Illusion) a horror movie, but it sure doesn't feel like one for much of its running time. That's because co-directors Justin Benson and Aaron Scott Moorhead (working from a screenplay by Benson) have crafted a film that works believably as a drama and a romance, well before things get creepy.
Twenty-something sous chef Evan (Lou Taylor Pucci) loses his mother to cancer, and when his short-fuse temper leads him to kick the crap out of a drunk jerk at a bar, he finds himself in trouble with the California police. Seeking a literal and metaphoric change of scenery, Evan impulsively takes off for Italy, ending up in a small coastal town overlooking the Adriatic Sea. There he meets Louise (Nadia Hilker), an enigmatic local girl, and sparks fly between the two of them. Exotic, gorgeous, and fiercely intelligent, Louise almost seems too good to be true. After a heated night of lovemaking, Evan falls hard, but soon things get weird. It's not impossible to gauge what happens next (even without the semi-spoiler-y trailer, ads, and advance reviews), but suffice it to say Evan's new love isn't all that she seems.
Spring takes its time getting to the scares, and that's a significant part of its effectiveness. The unhurried pace effectively parallels the setting, a humbly beautiful locale that's serenely untouched by time. Benson and Moorhead present this place with a refreshing lack of pretense, painting it with character and enough dark corners to sidestep superficial travelogue prettiness. The romance between Evan and Louise evolves gradually and realistically as the two open up aspects of themselves little by little: You'll definitely see Richard Linklater's Before films woven into Spring's DNA, with Evan's earnestness thawing out Louise's initial aloofness amidst patches of effective and funny dialogue (Pucci and Hilker, both terrific here, establish an affecting chemistry right away).
Benson and Moorhead certainly navigate the mucous-and-tentacle-laden creepy bits well, but it's the slow-burn atmosphere that makes their sophomore feature so special. Like the original 1940 Cat People and An American Werewolf in London, Spring is—at its heart—a darkly romantic fairy tale, masterfully wrapped in monster-movie drag.