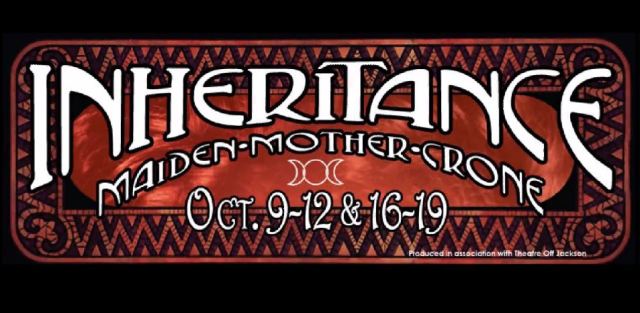 Inheritance: Maiden, Mother, Crone is an ambitious theater piece from the ladies at Sinner Saint Burlesque. It completed its two-week run at Theatre Off Jackson on Sunday night to a crowd filling up about three-fourths of the small theater.
As its mission statement says it wants "to become the next Vagina Monologues" and that it "blends burlesque, modern dance, narrative and feminist performance art with activism, intergenerational dialogue, beloved community, and sensory spectacle to explore both ancient and modern stories about what it means to embrace, celebrate and integrate the feminine." Like I said, it's an ambitious work.
It's also difficult to classify, by design. It doesn't work as a straight-forward theater production and the teasing and sexiness of burlesque is only a small part of the production. While classification is not the easiest thing, I'll try anyway.
The production ran for a little over two hours and had 22 different pieces performed and choreographed by seven members of SSB. Some involved new age mysticism and others were more contemporary and included pieces set to pop music. I appreciated that it found cohesion in the disparate pieces because it was a part of a story about womanhood that SSB wanted to tell.
The pieces I enjoyed the most included "Pageant," Lady Tatas' burlesque routine as a child beauty pageant contestant set to Britney Spears' "Circus" and "Sex Education," the act that interrupted a vintage, patriarchal lecture about how women should behave with a more liberating routine, choreographed by Nikola Tease-La. At least that's my recollection as taking notes was all but impossible in the dark theater.
The solo pieces, particularly Sailor St. Claire's "Fur Coat" and Evelyn Sin Claire's "Invisible Women" had personal meanings that were expressed beautifully. More importantly, they found a unique way, though theater and burlesque, to tell those stories.
(At this point, I'll say that I'm glad that I did the extra reading and viewing to prepare for seeing Inheritance. That included reading Dona Dei Cuori's book Burlesque and Bequest and watching YouTube videos by Sailor St. Claire, Evelyn Sin Claire, and Jesse Belle-Jones explaining their pieces.)
Not every piece gelled together completely, and I found some of the set changes frustrating (like having a 3 ½ minute piece followed by 90 seconds of darkness to move some chairs around). But with so many disparate and different pieces, that feels like nitpicking. There are bound to be a few pieces everyone will enjoy, or, even better, empathize with.