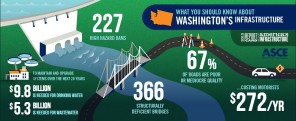 Washington's D+ subjects were roads and transit, even though, as the ASCE's Shane Binder was quick to clarify, the state has very good track record in terms of safety — especially through its sustained reduction of highway fatalities — and a very good track record for accountability on its projects. Transit ridership, too, is far above the national average.
Read »
Dear Constant Readers:
You can subscribe to The SunBreak for just $1 per month, and help keep the news & culture coming. Just $12 for a whole year!
Thank you!
Your SunBreak Delivery Options
is an online magazine of news & culture. A conversation about the things on Seattle's mind.