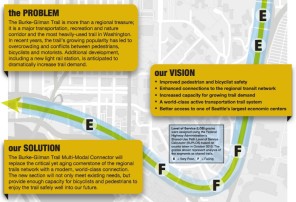 The University of Washington is requesting $12 million from the U.S. Department of the Transportation's TIGER program to upgrade the 1.8 miles of the Burke-Gilman Trail that skirt its campus. Because fewer than four percent of TIGER applicants receive funding — from a pool of $473 million this year — the UW is asking trail users and supporters to publicly sign on in support of the project.
Read »
Dear Constant Readers:
You can subscribe to The SunBreak for just $1 per month, and help keep the news & culture coming. Just $12 for a whole year!
Thank you!
Your SunBreak Delivery Options
is an online magazine of news & culture. A conversation about the things on Seattle's mind.