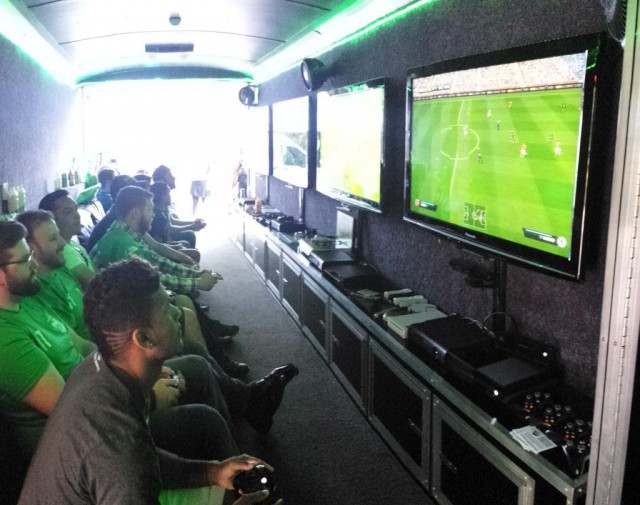 The locally-based energy/hydration drink company Golazo recently held a contest called "Play with DeAndre." It meant that one lucky winner (and nine of their closest friends) would have DeAndre Yedlin, the 21-year old Sounders FC and USA Men's National Team star defender, come by their home and have some pizza, drink Golazo, and play FIFA Soccer in a truck customized for playing video games. The contest was realized last Friday night, at the home of Nick Gurney, somewhere around Burien or White Center. It was a unique opportunity for a Seattleite to spend some time with the fast rising soccer star.
I stopped by for a few moments to chat with Yedlin about playing in the World Cup, the rumors of him going to Europe, the differences between playing against Major League Soccer teams and international soccer powerhouses like Belgium and eventual-World-Cup-winner Germany, and why he became involved with Golazo (which also counts soccer legend Pele among its "brand ambassadors").
What brings you down here to Burien/White Center for the evening?
We did a contest where the winner got a pizza party with me and a big supply of Golazo, the energy drink, and got to play FIFA. It's a nice little get-together and I'm enjoying the time.
How have things changed for you since getting back from Brazil?
It's a pretty big change. I'm getting noticed a lot more, even on the streets. When I was in New York, I was getting noticed when I went out and it hadn't happened before. There's a lot more attention, some more social media followers, things like that. For the most part, it has been good. Obviously, there have been calls from Europe and we're just weighing those options right now. For the most part, it's been pretty fun and exciting.
I wasn't planning on asking about the possibility of going to Europe, but can I ask if playing in Europe was always a goal for you as a soccer player?
Of course. Growing up, that was always been one of my goals. MLS is getting to be such a good league that it might not be the right situation for me at this point. That's just something me and my agents, my family, and coaches are talking about but when we find out the right situation, we'll go from there.
Can you talk a little bit about how the competition changed from playing in the knockout stages of the World Cup to coming back to the MLS?
Belgium has world class players, but MLS is getting to that stage. The level dropped a little bit, but not as much as people would think. The MLS is a top-five league, so I don't think there was as much of a drop.
What's coming up for you for the near future?
Winning the MLS Cup, that's the main thing. The US Open Cup, I know we have those kinds of games coming up. I'm excited for those two games. Those are my main goals right now. I think it would be great to bring an MLS Cup back to the city.
What about individually?
Just to push myself to the best that I can be. That's my goal every time. I just want to push myself to the max.
We're here because of Golazo, what made you want to partner with them?
One, it's a local company and I love Seattle, so I wanted to get involved with them. Two, it's all natural and I'm big on being healthy. You have these energy drinks out there and Gatorade. They taste good but they aren't really helping you. I believe Golazo helps me and gives me the extra step that I need.
{Photo from Twitter.}