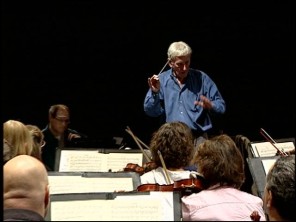 When the Auburn Symphony Orchestra was formed by music director Steward Kershaw 17 years ago it was in order, he said, to give the members of the Pacific Northwest Ballet Orchestra an opportunity to play the general orchestral literature.
Kershaw had been music director at PNB for many years, conducting an orchestra described by many admiring critics as "the finest ballet orchestra in the country." While there are still many musicians who are members of both ensembles, there are others who belong to one only.
The Auburn Symphony has showed its caliber over the years since in the small city south of Seattle which showed its pleasure in having its own orchestra by giving it support, although finances have often been dicey particularly in the recent recession. (Their annual gala is coming up June 6.)
The ASO normally performs at the Performing Arts Center, which doubles as Auburn High School's auditorium, but this past season has seen that venue in the throes of extensive renovation, and the ASO has been performing at Auburn's Mountainview High School instead. Next season it will be back at the PAC.
Meanwhile the final concert of the 2014-15 season had a packed audience Sunday afternoon at Mountainview. The orchestra showed itself at its best in a superb performance of Mozart's Symphony No. 29. The orchestra was the right size for this music, about 43 players, and the players in each section played as one, clean and crisp. Kershaw drew expressive details from them, the balance was perfect, and the whole an unalloyed pleasure to hear.
It's not common to hear the bassoon as a solo instrument, but Vivaldi wrote many concertos for it, and principal bassoonist Mona Butler performed as the soloist in his Concerto in A Minor. The bassoon is the lowest of the wind instruments, but its pitch, timbre, and textures were never overlaid by the orchestral accompaniment. Vivaldi chose in this concerto to intersperse orchestra and bassoon with duets between bassoon and solo cello, ably played by Brian Wharton. It's a concerto of considerable charm, well played by Butler, but there were many moments where orchestra and soloist were not quite together, which detracted from overall enjoyment.
She returned after intermission for a rarely heard and delightful work by Elgar, a short Romance for bassoon and orchestra. This is unmistakable Elgar from the first notes, with a much larger orchestra and clever orchestration to keep from drowning the soloist. Again however, there were moments when they were not together.
The concert ended with Bizet's lively "Arlesienne" Suites Nos. 1 and 2, between them eight short pieces, robust, fun, colorful, foot-tapping stuff, most feeling like dances (which they may have been as accompaniments for a play by Alphonse Daudet), and of which the orchestra took full advantage. The whole was a pleasure to hear. Kudos particularly to principal flute Wendy Wilhelmi and piccolo player Laura Werner, for their zestful and musical playing.