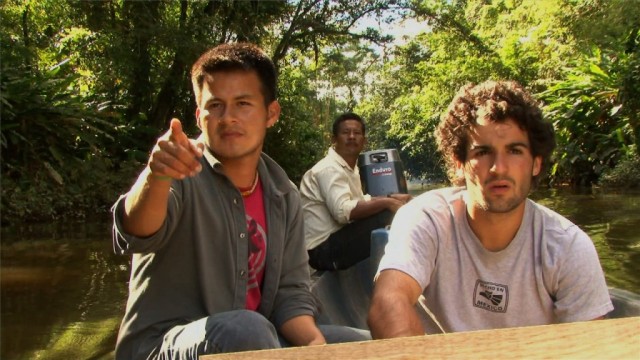 Oil & Water is a documentary playing this weekend at the Social Justice Film Festival (7pm at the Northwest Film Forum on Saturday, to be specific). It originally screened at SIFF earlier this year, and will have an abridged version to appear on PBS in Seattle early next year. (It has been playing on PBS affiliates already, but will not be on public television in Seattle until January.) It's well worth your time to check out the full 78 minute version this weekend. It is about the long term damage being done from oil companies in Ecuador.
The documentary is the newest from local filmmakers Francine Strickwerda and Laurel Spellman Smith. The two names you know from Busting Out, a 2004 Showtime documentary about breasts that was unfortunate in reminding viewers that Tom Leykis exists. But, much to its credit, Oil & Water does not feature any talk radio blowhards.
What Strickwerda and Smith accomplish here is an engaging documentary that they spent a lot of time working on. It raised almost twice its modest $5000 goal on Kickstarter back in early 2011. What makes Oil & Water so compelling is that there's a human element that should draw people in and make it accessible for people who wouldn't normally care about an environmental documentary. The doc is told through two stories: Hugo, an Ecuadorian who is to the US to get an American education (he graduates from Seattle's Bishop Blanchet High School in 2006) and David, and idealistic Massachusetts millennial who tries to start a company that certifies "fair trade" oil. Hugo's from the Cofan tribe, an indigenous tribe on the Ecuadorian Amazon fighting for its survival.
I don't want to delve too much into the personalities of Hugo and David, or their families, but I'll just say that Strickwerda and Smith have done a remarkable job of putting a human face to a catastrophe. It is often that the stories of marginalized people get left out when the "freedom" for large companies to do what they want is at stake. I think a lot of people are comfortable with letting corporations do whatever the want when it's under the banner of "job creation," but a movie like Oil & Water pushes back against that idea. The humans affected by oil drilling are no longer an abstraction to be ignored, but actual people. It makes it all the more necessary. Oil & Water is not just important and accessible, but it's also dangerous.