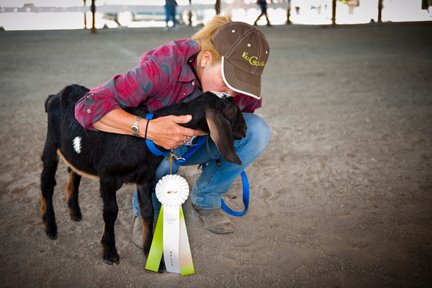 I don't know about you, but I like my philanthropy to include some unrestrained joy to go along with the (sincere!) thank yous. So I think there are two events that fit that criteria that I'm using this space to plug.
The first is this Saturday (tomorrow!) and it's the Goatalympics, which will require a drive out to Monroe, but should be worth it. Here's what I'm told you can expect:
A free, family-friendly event, the Goatalympics is ridiculously fun!  Come watch goats and their people compete in foot races, obstacle courses and more.  Take your guess as to who will win Best Trick, Most Spots, Longest Beard and other exciting contests.  Vote in the People's Choice Awards for Adult and Youth costume contests.

The Goatalympics is not your typical livestock event.  Rather than focus on conformation and production, as seen at a typical County Fair, the Goatalympics is all about having fun with pet goats.  It's a chance for people to show off their ruminants' skills, with events ranging from obstacle courses and races to costume and stall decorating contests. Last year's costumes included Supergoat, a safari guide with her "exotic"goats, Pope Francis and more.  In addition to goat contests, there will be a mega-raffle and silent auction.  Of course, there will be adorable, adoptable goats for people to meet.  Several photographers will be on site as well, covering the fun from every angle and photos will be available for purchase online after the event.
The Goatalympics is a fundraiser for New Moon Farm, a goat rescue and sanctuary. This all goes down Saturday, July 12 at Evergreen Fairgrounds in Monroe from 10am until 4pm.
I would also remiss if I didn't give a plug for this worthy show: next Friday, Nectar is hosting a benefit for Planned Parenthood Northwest with lots of excellent music. It's headlined by La Luz and includes Jason Webley, Golden Gardens, and The Gods Themselves, playing what I think will be their second show ever (Tony recommended their first last weekend, and people I trust say that it was a great time). Tickets and more information can be found here.