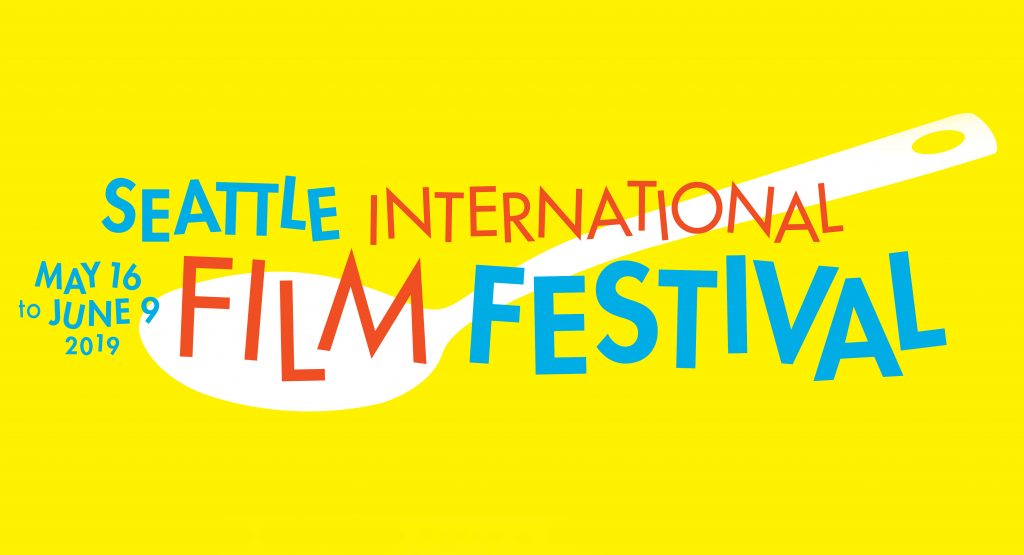 Nothing says "Springtime" in Seattle quite like a citywide occasion to hide inside movie theaters for twenty-five consecutive days and nights. That's right, the arrival of the 45th Seattle International Film Festival is upon us, bringing a complete lineup of 410 films to town. Broken down, that's 147 narrative features, 71 documentaries, 12 archival, 176 shorts, plus four secret films revealed only at the moment of Sunday morning screenings to passholders who have signed an oath never to reveal the titles. Of these, the programmers did an admirable job of seeking novelty and diversity — the films represent 86 countries, 55% are first or second-time filmmakers, 59% are still seeking U.S. distribution, and 46% are made by women filmmakers. There are 36 World Premieres (12 Features, 24 Shorts); 40 North American Premieres (27 Features, 13 Shorts); and 19 US Premieres (11 Features, 8 Shorts).
Start diving into the website now: tickets go on sale to the general public on May 2rd, but members get a one day head start. Free printed program guides should be on the street (this year, mercifully arranged in alphabetical rather than thematic order). Press and donors got a curated tour of the schedule last night, members are in for hours of previews tonight, but if you couldn't get into those events, sit back, turn your preferred streaming device to SIFF's YouTube page, and click "play all" to get trailers for over 150 festival films.
The festival officially kicks off on May 16th at McCaw Hall with a fancy gala presentation of Lynn Shelton's Sword of Trust. With the need to please everyone (or at least not offend sponsors), Opening Night films are famously hit-or-miss, but launching the festival with a hometown hero of a director leads us to believe that this one could be a better-than-usual excuse to put on whatever passes for Seattle finery, walk the red carpet, and catch up with film friends during the mad-rush for hors d'oeuvres, strategic deployment of drink tickets, and maybe just a little bit of dancing. All of this glamor can be yours for the price of a general admission ticket ($75/$65, members) all the way up to the full-on valet and gift bag luxury of the $275 "Red Carpet Experience". Never fear, if history is any indication, the gala will end before midnight to give you time to recover before charging into the next three weeks of filmgoing that starts in earnest on Friday afternoon.
Parties, special events, and other film-adjacent occasions for revelry continue throughout the festival, but there are a few big ones to get on your calendar before tickets sell out. The Centerpiece Gala, Late Night, directed by Nisha Ganatra based on a script by (and co-starring) Mindy Kaling in which Emma Thompson struggles to get her groove back as a talk show host. I saw it at Sundance, and it's not to me missed: a sweet delight that's funny and insightful women in comedy and the perils of daring to get older in show business. (Sunday June 1, Egyptian). Along the way, SIFF pays tribute to the effervescent and affecting Regina Hall with a career retrospective Q&A followed by a very special screening of the very special Andrew Bujalski film, Support the Girls. If you somehow missed it last year, this is your chance to see it on a big screen instead of in your Netflix queue. SIFF closes with another aptly-titled buzzworthy dramedy out of Sundance, The Farewell, Lulu Wang's semi-autobiographical story of a return to China under the guise of a wedding to say goodbye to a dying matriarch. It stars the amazing Awkwafina and serves as the appetizer to the Closing Gala at Mohai. (June 9, 6:00pm, $75).
We'll leave you with this year's SIFF trailer. If you've followed our advice, by the end of the festival you'll have seen it so many times that you should be able to quote it line for line.
As a reminder, to SIFF like a pro, revisit our time- and fest-tested tips, lightly-updated for 2019:
PLANNING
Plan ahead. Get to know the freshly-facelifted SIFF website. Browse the sortable searchable Festival Guide. Check ahead to see if guests will be at the screening for a Q&A, for timing and scheduling purposes, if not for celeb-watching, and monitor the various SIFF feeds regularly for updates, so you'll have the heads up before a screening sells out.
Technology is your friend! SIFF is never as tech-integrated as one would like, but the mobile website and an app to keep track of your tickets are still there to fill the void (R.I.P. dedicated SIFF schedule app, you were too beautiful for this world). There, you can make use of the My SIFFto build your own calendar and email your schedule to friends who still use email (but sharing your schedule on social media or importing into your own google calendar remains a pipe dream). Still, you can keep up with festival news on various platforms: Facebook, Twitter; YouTube, and Instagram.
The festival also posts daily updates (as PDFs) alerting eagle-eyed planners to films that are selling quickly or are already on standby on their Resources page.
That page is also where you'll (eventually) find all sorts of fun stuff like an Excel sheet of all the films, the film guide, and the whole schedule grid, suitable for printing on a couple sheets of paper and keep it in your back pocket for three weeks. Perfect for survivalists, Luddites, or people worried about being without the schedule in the case of a drained battery.
Once the festival starts, you can get a commemorative catalog. The glossy pictures and longer descriptions make almost every film look more compelling, and the giant book makes a nice souvenir/scorecard.
PERUSING THE PROGRAMMING
The festival is stuffed with panels, parties, events, and even more galas; book early for these special engagements.
The festival is organized into multiple intersecting systems. For the left-brained, there are programs and competitions: completists might try following along with the juries in collections like the official competition, the documentary competition, or the New American Cinema competition; extremists could consider seeing the full collection of WTF or Alternate Cinema; hedonists could check out the Culinary Cinema series for dinner and a movie or soak up the Face the Music program. There are also regional collections, from the far-flung to films with Northwest Connections. New this year are sections on Web and Episodic filmmaking as well as a Virtual Realityzone featuring interactive and immersive programming.
If you're still stuck, browse the expert advice of the Programmer Picks. This year, 22 tireless SIFF programmers collectively identified top bets among the festival's riches. You could either choose one programmer and follow their lead or go with the consensus.
BUYING
Consider buying in bulk. There's nothing quite like the flexibility of joining the ranks of the passholders, but even if you don't want to spring for that level of commitment, you can still get a ticket packages in sets of six ($75/$65 members) or twenty ($240/$180) to cut down on service fees and save a bit of money compared to individual tickets. There's also a Gala Pack to get you into Opening, Centerpiece, and Closing nights ($150/$125) and is currently the only game in town for getting into the Closing Night (individual tickets on standby).
Or be adventurous, swear yourself to silence, and buy into the aforementioned Secret Fest— you'll get four Sunday morning screenings that you can see only by signing a contract promising never to reveal what you saw.
If a film is sold out, all hope isn't lost, but getting into a film via the standby line is a complete crapshoot— don't count on it for a popular film. But if a miracle does occur, those tickets are full price and "cash preferred."
VENUES
The core venues for this year's festival are: SIFF Cinema Uptown, SIFF Cinema Egyptian, and Pacific Place. Together this makes for five screens and the majority of screenings.
Lower Queen Anne offers you the closest thing to one-stop SIFF-ing. All three SIFF Uptown screens will be showing festival films, two blocks or so away the SIFF Film Center opens for weekend screenings, and the SIFF Lounge pops up for passholders at SIFF Lounge W. Roy Street and Queen Anne Avenue N.
For those straying from SIFF central, it's a fairly short walk between the Egyptian and Pacific Place (slightly less easy the other uphill way around). And light rail stops on Capitol Hill, Westlake Center and in Columbia City, ease the venue-hopping experience for those shuttling between The Egyptian, Pacific Place, and/or Ark Lodge. Getting to-and-from the Uptown, you're at the mercy of downtown traffic; so plan accordingly and then double your transit estimates if you're relying on the bus.
You can still enjoy SIFF outside of the Seattle core! Over the course of the festival, SIFF will spend time in Ballard at Majestic Bay (May 17-22), in Columbia City at Ark Lodge Cinemas (May 17-23), in Bellevue at Lincoln Square Cinemas (May 17-30), as well as at Shoreline Community College (May 24-June 2) and the Kirkland Performance Center (May 30-June 2). Plus, there are a handful of special events at other venues around town.
PRACTICALITIES
If you're particular about where you sit, there's no such thing as arriving too early. Expect every screening to have a long line and a full house. Still, as long as you have a ticket, you'll have a seat. Ticketholders are usually let into the theater about 30 minutes in advance of showtimes. Passholders get in first, but there are a limited number of seats set aside for them; so show up early, particularly for movies with big buzz.
Regarding those long lines: be prepared with an umbrella, sunglasses, sunscreen, a light jacket, and some reading material to pass the time.
Bathrooms! One way to avoid the line is to either head straight to the restroom as soon as you get into the theater, or wait until the lights go down. From there, you've got about 7 minutes of ads, trailers, and announcements before the film begins.
Consider subtitles. If your film has them and you're not fluent, find a seat with a clear view of the bottom of the screen. Aisle left or right is generally a good bet. Although the seats on the center aisle (exit row) at the Egyptian have tons of room to stretch your legs, the raking of the theater flattens out for the aisle, so you're likely to have an obstructed view of the subtitles if anyone of average height or above average skull circumference sits in front of you.
If you're a passholder, the queue cards of yore may be gone for good. Good news: You don't have to keep track of those little sheets of colored paper. Bad news: You get to engage in the time-honored and shudder-inducing tradition of waiting in line. [Note: this system seems to change year-to-year; we'll update with 2019 protocol once we know more].
Finally, despite all of this strategic advice, it really never hurts (too much) to try your luck with whatever happens to be playing on whatever night you happen to be free. Not every screening has an interminable line, sometimes that scary-looking line is just hard-core SIFFers with time on their hands and/or an ingrained sense of promptness. Many many times you may walk right in to a half-empty theater. It's the chance to experience seeing something you enjoy on some level, if only just a window to a different world/experience than what you're used to. We look forward to seeing you at the movies!
Keep track of the SunBreak's ongoing SIFF coverage on our SIFF 2019 page, plus news, updates, and micro-reviews on Twitter @theSunBreak.