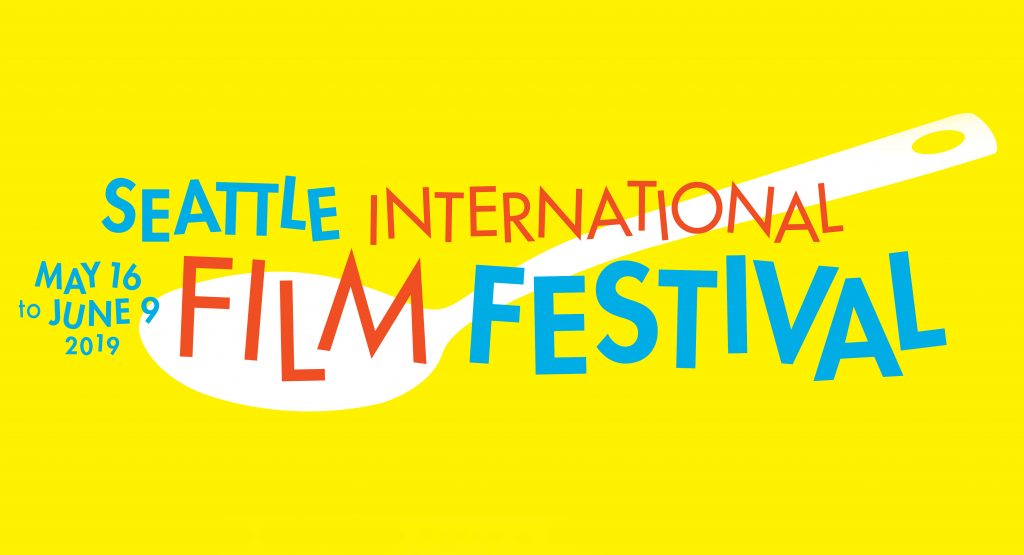 Hello friends, it's finally here! The first night of what will come to feel like the rest of your lives. That's right: the 45th Seattle International Film Festival opens tonight. By the time it closes, twenty-five years from now, we'll all be so much older, wiser, and overdosed on popcorn.
Opening night selections have something of a rocky track record. There are certainly some gems in there, but one gets the sense that the understandable need to please the festival's biggest, donor-filled house leads to some compromise. One year, it's the lows of the Notebook, the next it's the highs of Me and You and Everyone We Know (your rankings may vary). Happily, this year's selection, Sword of Trust, from hometown hero Lynn Shelton comes in on the side of being one of the better openers in recent memory as well as a lovely film in its own right. Tickets, which include entry to the post-screening gala, are still available.
In brief, the film finds two women (Jillian Bell and Michaela Watkins) arriving at a recently-deceased grandfather's house, expecting to inherit the place. Instead, they wind up bequeathed only a Civil War sword accompanied by an outlandish conspiracy theory. A local pawnshop owner (Marc Maron) and his hapless assistant (Jon Bass) get pulled into the web of alt-history as they try to unload the artifact from its reluctant new owners. Unlike some of her mumblecore compatriots, Shelton gives us a story with plenty laughs and an actual plot that culminates in a madcap adventure, but for me, the the whole enterprise exists as an excuse to get these four people in the back of a windowless moving van. There, the rest of this world fell away as they pass the anxious time with a revealing conversation that candidly explores the surprising turns that people's lives take and the choices they make to care for themselves and each other.
I think that we all managed to see it, what did the rest of you think?
Chris: I loved Sword of Trust, and just thought it was hilarious. Lynn Shelton has made some great comedies, but I thought this was the funniest of her films, because she cast someone in Marc Maron who is playing to his strengths as a comedian. I've also become interested in the weird things people believe on the Internet, and the supposed history of the sword felt like it was speaking directly to me.
Morgen: I really enjoyed myself, but not my favorite of her work. Honestly I just have too warm a place in my heart for Five Dollar Cover (though that's a show, not a feature-length) to call anything else my favorite. Apparently it's been a while since I've experienced any of Lynn's films: I felt a like I was floating along on a stream of consciousness rather than driven by a story that had an end, but the fellas let me know that's pretty typical for Shelton's creations. That's not a complaint, I'm just so used to the feeling of "where's this driving us?". A different style of storytelling took me by surprise but it was almost a relief not to feel that tension, and Shelton replaced it with awkward uncomfortable silences that I relish. Like Chris said, Marc Maron created that perfect amount of gawky discomfort where you shift in your seat a little more often and maybe even look away from the screen for minute before smiling and shaking your head. The last bit of the film had me a little flabbergasted asking myself "Really? Could this really happen?", but the whole storyline is a little like that so I was happy to keep on floating down that stream.
Josh: By the way, everyone should check out Tony's interview with Lynn Shelton for Crosscut.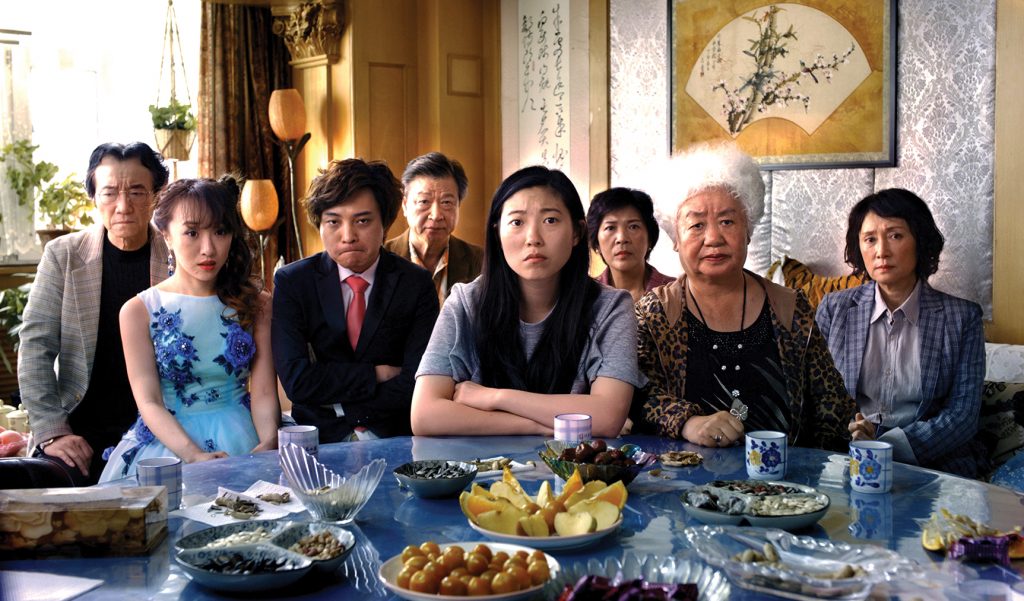 Must-Sees for the Festival?
Josh: We've had the luxury of a couple weeks of previews to prepare for the rest of the festival. Anything that you've seen that absolutely shouldn't be missed?
Morgen: I hadn't really noticed culinary-centric films at SIFF in the past, so maybe I'm just more food-obsessed now but either way I'm a happy lady. One film that grabbed me right away is Funke. The titular chef has been notorious in LA for a while, so you might already know part of his story, but he is more passionate about pasta than literally anyone you ever have, or ever will, meet. His past involves a failed restaurant and a bit of drama which you'll be caught up on in the first quarter of this film. The rest is left to dramatically pull you into his present (it was filmed in 2018 but close enough for jazz). The near obsession this man has with perfection and pasta is fascinating to watch and you stay glued to the screen to find out if he'll fail again. Hey, we all love a triumphant story… but we also love those trainwrecks..
Josh: As far as I'm concerned, SIFF hit it out of the park with their Gala programming this year. Three very different comedies, all directed by women, that earn laughs while also delivering emotional riches. Fans should hurry to the online box office and get tickets to the remaining entries now before they're all gone. The Centerpiece Gala, Late Night starring Emma Thompson and Mindy Kaling, hilariously explores the perils of a talk show's writers room and the agony of having your life's work slip away from you, is on dreaded STANDBY but tickets are still available for the encore screening. Which brings us to Closing Night. Awkwafina, who I'd previously known from her outsized roles in Ocean's 8 and Crazy Rich Asians, is absolutely terrific and altogether toned down in the Farewell. Lulu Wang's semi-autobiographical story of family that reunites in China under the pretense of a rushed wedding as an excuse to see a matriarch who's kept unaware of her terminal cancer diagnosis, is a wondrous and revelatory creation: funny, sensitive, surprising, and eye-opening to cultural differences in who bears the burden of grief. (☆☆☆☆☆) Highly recommended, limited number of tickets left, so treat yourself and get a seat and party pass today.
Chris: I've seen two of the three gala movies, and agree with you, Josh. I was taken with The Farewell's understated charm of a Chinese family who wants to see their terminally-ill mother/grandmother enjoy the remainder of her life unburdened by the worries of cancer. For me, I thought Roll Red Roll was the best movie I've seen thus far. It's a really potent documentary about the sexual assaults committed by Steubenville High School football players. It's such a depressing look at how entrenched power protects itself. I was also really fond of Botero, a loving documentary about the South American artist Fernando Botero. If you follow me on Twitter, you'll see that I've lately become obsessed with Botero's Adam statue, one of which is located in Seattle (it was recently moved to Fourth and Lenora, across the street from Cinerama). People in New York, umm, polish part of his body for luck.
Another film I liked an awful lot, which I suspect will be very polarizing is The Nightingale, from Babadook-director Jennifer Kent. It's a brutal western about a woman who seeks revenge on the British soldiers who do unmistakeable harm to her and her family. The tension from a woman with nothing to lose seeking revenge is absorbing, and even empowering. I hope we can talk more about this in a later roundtable.
Opening Weekend Picks
Josh: In addition to Other special events this opening weekend include an archival presentation of The Phantom of the Opera with a newly composed live soundtrack performed by The Invincible Czars (Saturday May 18, 2:00 PM · SIFF CINEMA EGYPTIAN). On Saturday night, head to Ballard for Icelandic film, Pity the Lovers (dir: Maximilian Hult, 2019) and stay for a party at the gorgeous new National Nordic Museum. What are you all looking forward to seeing on SIFF's first weekend?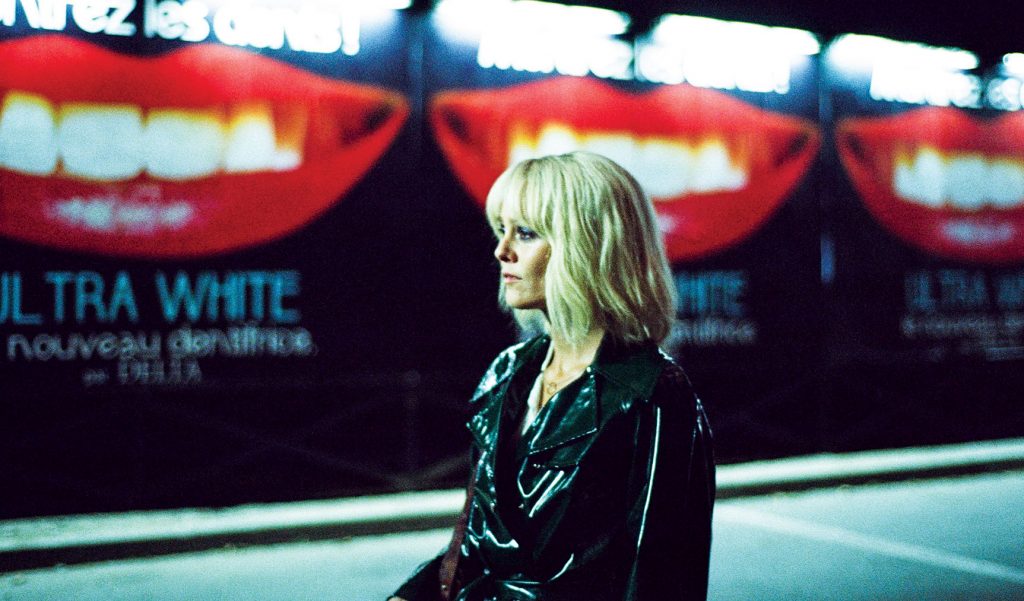 Knife + Heart, courtesy SIFF
Tony:
Volcano.(Ukraine | 2018 | 106 minutes | Roman Bondarchuk)
Magical realism, be it made manifest in literature or film, consistently enthralls me, especially when done well. Roman Bondarchuk's debut narrative feature follows a government prole through a series of surreal adventures deep in the Southern neck of Ukraine. If the trailers and favorable advance reviews are any indication, this should be mesmerizing.
FRIDAY, MAY 17, 2019 – AMC Pacific Place – 11:00 AM
MONDAY, MAY 27, 2019 – Shoreline Community College – 8:15 PM
FRIDAY, MAY 31, 2019 – SIFF Cinema Uptown – 12:30 PM
Knife + Heart.(France | 2018 | 103 minutes | Yann Gonzalez)
Yann Gonzalez's reportedly dazzling, taut thriller follows the bloody swath cut by a shadowy killer who's picking off members of a gay porn film's cast and crew. Gonzalez's point of entry is the Italian Giallo, a subgenre of horror film that smears sleek, striking visual style with an unapologetic wallow through sleaze and violence–in other words, an ideal starting point for SIFF's Friday evening Midnight Movie Series.
FRIDAY, MAY 17, 2019 – SIFF Cinema Egyptian – 11:59 PM
SUNDAY, MAY 19, 2019 – SIFF Cinema Uptown – 9:30 PM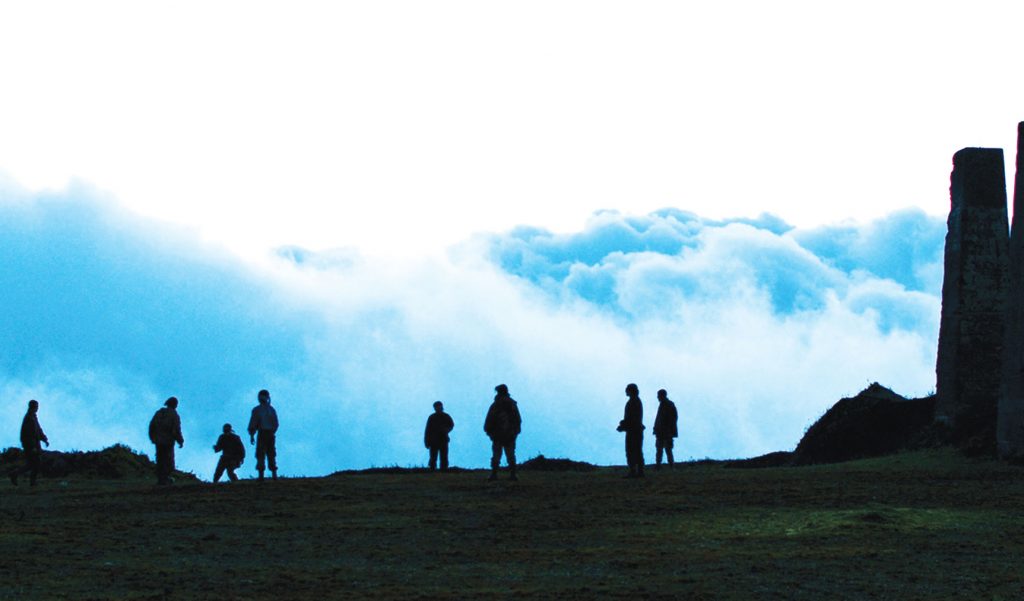 Monos, courtesy SIFF
Josh:
Monos. (Colombia | 2019 | 102 minutes | Alejandro Landes)
High above the clouds in the remote mountains of Colombia, we meet eight kids doing normal teenager stuff: partying around a bonfire, celebrating a friends birthday with song and spankings, tripping on mushrooms you found in the jungle, convincing your boyfriend to make out with his buddy, and filming hostage videos to prove that the kidnapped woman (Julianne Nicholson, gaunt and at her wit's end) being held by your unspecified paramilitary Organization in the isolated bunker is still alive. Between intermittent radio check-ins and training sessions from their handler, things go about as sideways as you'd expect for a pack of kids running a military operation with very little adult supervision. Their descent, organizationally and through the lush setting, is captured in gorgeous cinematography. ☆☆☆½
FRIDAY, MAY 17, 2019 – SIFF Cinema Uptown – 3:30 PM
MONDAY, MAY 20, 2019 – SIFF Cinema Egyptian – 9:30 PM
Running with Beto.(USA | 2019 | 95 minutes | David Modigliani)
You have to think that this documentary about Texas congressman Beto O'Rourke's was meant to be a chronicle of a triumphant and improbably victory over the odious Ted Cruz to flip a long-held Republican Senate seat and defeat the odious Ted Cruz in the 2018 election. Instead, it might shape up be a first act in the political chronicle of rising star, Beto O'Rourke, former punk band member, current fan of standing on things, who's currently among the hundreds of contenders for the 2020 Democratic nomination for president.
FRIDAY, MAY 17, 2019 – SIFF Cinema Egyptian – 6:30 PM
SATURDAY, MAY 18, 2019 – SIFF Cinema Uptown – 12:30 PM
Banana Split. (USA | 2018 | 88 minutes | Benjamin Kasulke)
Pacific Northwest cinematographer Benjamin Kasulke has worked with directors like Guy Maddin, Lynn Shelton, Megan Griffiths, and Colin Trevorrow to make some great looking features. Here he makes his own directorial debut with a comedy set in the heady months between high school and college about an unexpected friendship between a girl and her ex-boyfriend's new girlfriend.
SATURDAY, MAY 18, 2019 – SIFF Cinema Uptown – 6:30 PM (Director Ben Kasulke scheduled to attend)
SUNDAY, MAY 19, 2019 – AMC Pacific Place 1:00 PM (Director Ben Kasulke scheduled to attend)
THURSDAY, MAY 23, 2019 – Ark Lodge Cinemas – 6:30 PM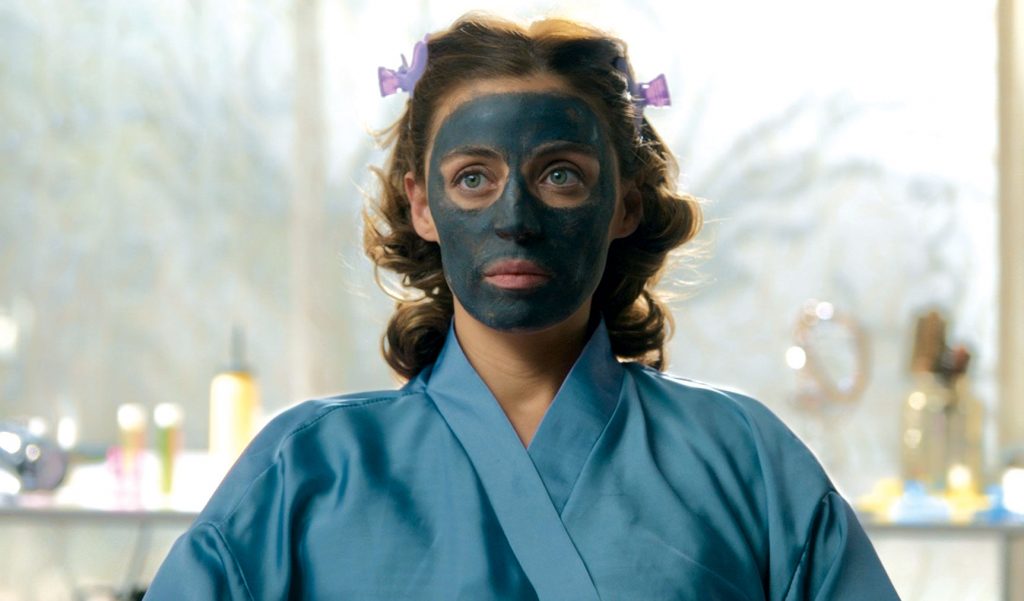 The Good Girls, courtesy SIFF
Chris:
The Good Girls (Mexico | 2018 | 93 minutes | Alexandra Marquez Abella)
Sofia is the type of person easy to hate: wealthy, glamorous, and aware but unconcerned about flaunting her expensive lifestyle. That all comes crashing down when the peso collapses and a business deal her dutiful husband tries to pull off falls through. I'm optimistic this will fill my yearnings for class-conscious politics and schadenfreude.
FRIDAY, MAY 17, 2019 – Ark Lodge Cinemas – 9:00 PM
FRIDAY, MAY 31, 2019 – Shoreline Community College – 9:00 PM
SATURDAY, JUNE 1 – SIFF Cinema Uptown – 8:00 PM
International Falls (USA | 2019 | 93 minutes | Amber McGinnis)
Rob Huebel and Rachael Harris star, respectively, as a washed-up comedian and a lonely, frustrated housewife who dreams of being a comedian herself. They form an unlikely (or likely?) friendship while he comes to her Minnesota-Canada border town for a weekend of headlining shows.
SATURDAY, MAY 18, 2019 – Ark Lodge Cinemas – 8:30 PM
THURSDAY, JUNE 6, 2019 – SIFF Cinema Uptown – 9:00 PM
FRIDAY, JUNE 7, 2019 – SIFF Cinema Uptown – 12:30 PM
Sons of Denmark (Denmark | 2019 | 117 minutes | Ulaa Salim)
This Danish thriller is set in the not-too-distant future where an ultra-right wing political party is on the verge of controlling the government and a young activist from the opposition is tasked with carrying out the assassination of the likely next president.
FRIDAY, MAY 17, 2019 – SIFF Cinema Egyptian – 9:30 PM
THURSDAY, MAY 30, 2019 – SIFF Cinema Uptown – 3:30 PM
SUNDAY, JUNE 2, 2019 – SIFF Cinema Uptown – 8:30 PM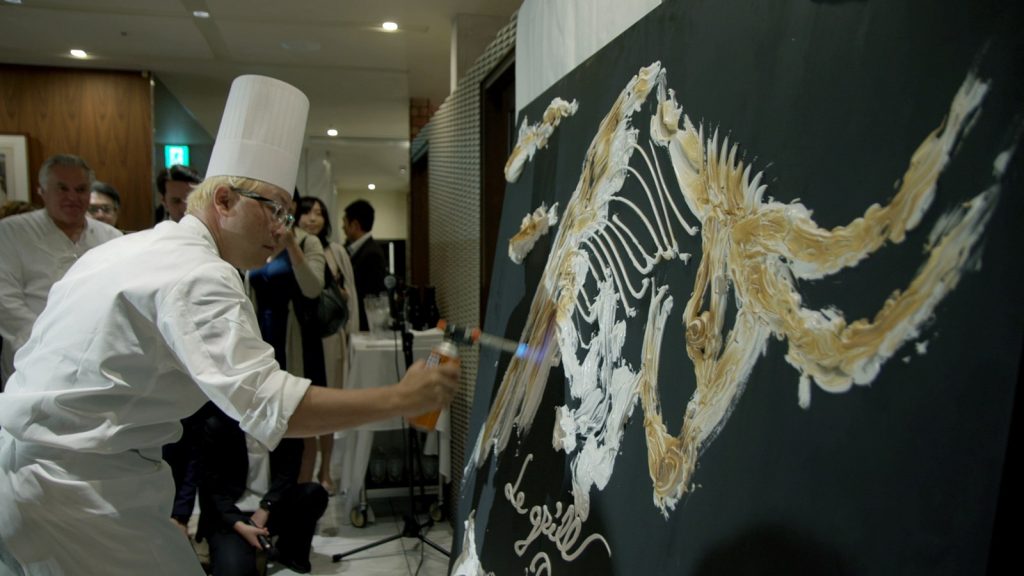 Le Chocolat de H, courtesy SIFF
Morgen:
Le Chocolat de H (Japan | 2019 | 84 minutes | Takashi Watanabe)
As a food photographer I'm completely intrigued to see chef and food-related documentaries on the bill. While I would consider myself far from an expert on chocolate (other than eating my weight in Theo's of course), when I think of this confection, I don't think Japan. Cultural fusions excite me and I think this film will at least open my eyes to a new chef and a new culinary interest. The cinematography is intriguing, as always creating the illusion of sexiness and mystique to the art of making food; perhaps that's important, or in this case simply stroking the ego of the chef, Hironobu Tsujiguchi, featured in the film. I'm ready to find out.
FRIDAY, MAY 17, 2019 – AMC Pacific Place – 7:00 PM
SATURDAY, MAY 18, 2019 – SIFF Cinema Uptown – 3:00 PM
SATURDAY, JUNE 1, 2019 – Kirkland Performing Arts Center – 3:30 PM
Sune vs Sune (Sweden | 2018 | 89 minutes | Jon Holmberg)
I was immediately giggling at the prospect of this story. it's the strife of a young boy dealing with the frustrations of life… as a young boy a la The Sandlot or The Mighty Ducks. Sune is having the worst year ever: the family car is breaking down, there's a new kid at school who's caught the eye of his love interest and he's American (ugh!), and worst of all this new kid's name is Sune… so now Sune has been downgraded to Sune Two. Who wants to feel like second fiddle when you're 10? No one. We follow along with the main character as he tries to navigate the waters of being a tween. This fun film will have us rooting for the underdog as he tries to scheme his way back to the top. This director, Jon Holmberg, is no stranger to comedic projects and to be honest Swedish comedy has just the right kind of dry wit for my taste.
SATURDAY, MAY 18, 2019 – AMC Pacific Place – 1:00 PM
SUNDAY, MAY 26, 2019 – Majestic Bay – 11:00 AM
SATURDAY, JUNE 1, 2019 – Kirkland Performing Arts Center – 1:00 PM
Firecrackers (Canada | 2018 | 93 minutes | Jasmine Mozaffari)
Unlike Sune vs. Sune, this film looks like it's going to emotionally wreck me from beginning to end. I'm used to seeing young men, in an attempt to get out of a crap situation, make bad decisions and barely escape with their lives (or not)… but seeing strong female leads embroiled in this situation makes it even more intense.. I grew up with kids in bad situations like these, I came from a place where you didn't have a lot of options unless you were really lucky. What I want from this film is to see powerful women who may make bad decisions for the right reasons, come out of it even stronger; maybe even finding strength and hope in each other. We don't always get what we want, but most likely it'll be jarring and raw, and I can definitely appreciate that.
SATURDAY, MAY 18, 2019 – SIFF Cinema Uptown – 2:30PM
TUESDAY, MAY 21, 2019 – AMC Pacific Place – 9:30PM
In the meantime, if you see something we shouldn't miss, say something! Keep track of the SunBreak's SIFF coverage on our SIFF 2019 page, plus news, updates, and micro-reviews on Twitter @theSunBreak.