Kajillionaire (2020 | USA | 104 minutes | Miranda July)
Writer/director Miranda July (The Future, Me and You and Everyone We Know) has shown herself to be keenly attuned to the strange and unspoken vibrations that exist between humans. Through her films and writing, she amplifies the to a state of hyper-reality, exploding the ordinary, to make the subtle perceptible to mere mortals. With Kajillionaire she gives us a deeply odd family of laughably low-level con-artists of the saddest order: Theresa (Debra Winger) and Robert (Richard Jenkins) and their twenty-six-year-old daughter Old Dolio (yes, that's really her name, played by a husky-voiced Evan Rachel Wood) whose every waking moment is dedicated to sustaining their bizarre and meagre existences through swindles, scams, and contests.
It's instantly evident that you're in the Mirandaverse from the opening shots — a sky blue Los Angeles post office, creamsicle orange bus, oddly buoyant soundtrack (Emile Mosseri, the Last Black Man in San Francisco) — where we meet shaggy haired, clothed in oversized tracksuits, fully repressed Old Dolio launch into a parkour-eseque series of tumbles and evasions to extract valuables from neighboring post boxes. Returning from their caper, the family contort in a form of modern dance to avoid the landlord who rents them the home that they've made from a windowless office suite where cotton-candy pink suds coat the walls at regular intervals. Less a family than a tightly-knit cult, the only overt emotion that colors their interaction is paranoia and a constant hunger to execute the next grift.
When, amid one of their more ambitious schemes, a relatively normal outsider (Melanie, Gina Rodriguez) invites herself into their club to spice up her own life, it shakes up the family dynamic even more than the earthquakes constantly rocking their corner of Los Angeles. The arrival of Melanie serves as a catalyst on many fronts, opening new opportunities for grift and nudging characters into long-suppressed growth. July's story of these weirdos is constantly mutating. Even as their plots become more outlandish and strain credulity, she remains open to their humanity, allowing the story to flex and find room for surprising explosions of tender revelatory sadness and discovery. If you're willing to suspend disbelief, follow these strange characters and you'll find yourself safe in incredibly capable hands.
Cover image, KAJILLIONAIRE (Credit : Matt Kennedy) Now available in theaters and VOD via Focus Features
---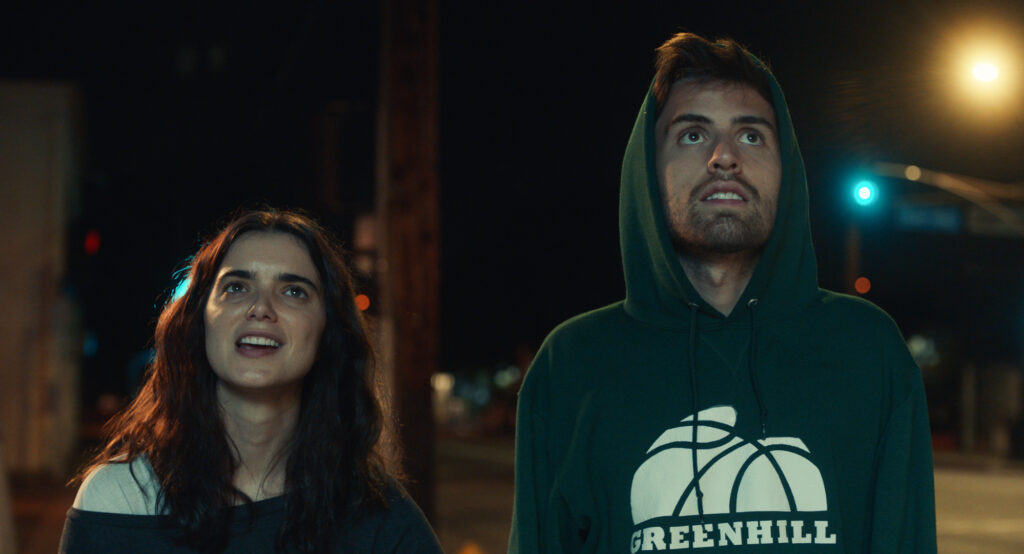 Shithouse (2020 | USA | 102 minutes | Cooper Raiff)
Living far away from home for the first time, freshman Alex (Cooper Raiff, who wrote, directed, and stars) is having a tough time adjusting to life at his Los Angeles liberal arts college. Sitting on his dorm bed, feet away from the roommate sharing his college prison, both silently absorbed in their own screens, Alex's stuffed wolf* — like Arthur from Beginners, speaking through subtitles — gives him some much-needed tough love: "Just ask his about parties. College sucks, but you're also not trying."
And so, awkwardly, Alex finds himself tagging along for a party at the titular "Shithouse", surrounded by classmates who are having, or have convinced themselves to believe they're having, an altogether more spectacular time at school than he is. One gets the immediate impression that Raiff has more than a passing familiarity with feeling alone in a crowd, shorthanding most of what we need to know about Alex with his facility for disappearing in plain sight and bailing from a drunk hormonal make-out session to sit outside, catch up on his sister's instagram stories, and call his mom (Amy Landecker) to talk about allergy medications. Neither a repressed nerd or angry incel, he's just an emotionally-available introvert who hasn't quite committed to being anywhere at all.
Later that night, an encounter with his RA (Dylan Gelula, who made a splash in For the Girls) starts as an awkward guarded conversation, tumbles furtively into bed, and eventually sprawls into a long, gradually revealing walk-and-talk around the campus to a turtle funeral, like some kind of beautifully restrained Zoomer Before Sunrise. From there, though, Raiff resists the cliche campus love story for something more realistic and possibly profound: a testament of the life-changing magic of taking a chance, encountering someone who's nice to you, and all the ways that small step outside of your comfort cocoon can open the world in meaningful and unpredictable ways.
There's very little flashy about Shithouse, but twenty-three-year-old writer/director/star Cooper Raiff managed a near flawless execution in his first film. Although his focus spotlighting on the understudied phenomenon of nice boys being lonely at college and missing their faraway cool moms and sisters, he never shortchanges Dylan Gelula's Maggie as a manic pixie dream girl object of affection. She has her own wants, needs, and agenda for having her own best life at school. When they come into conflict with Alex's the story more often than not takes her side. This small campus coming-of-age story is full of all the biggest feelings, and "with great friends and stolen equipment" Raiff turned his emotional scrapbooks into one of the year's most heartfelt charmers. What a relief that he was brave enough to tweet the link to the rough cut to Jay Duplass who helped him develop his feature film debut into this miraculous, funny, and vulnerably authentic slice of life that's appearing this weekend on all of our home movie theaters.
Shithouse is available in theaters and on-demand this weekend.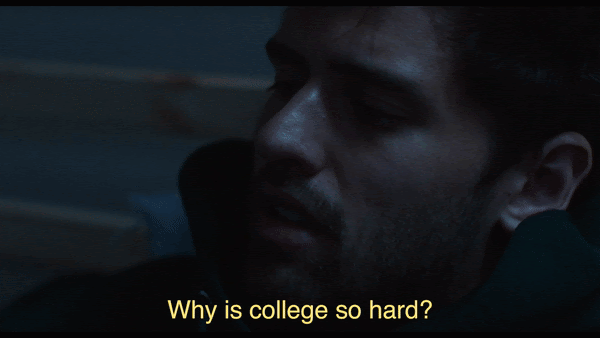 * If we're being honest here, the existence of a talking wolf as a minor character was really all it took for me to fall for this movie, so it was a relief when the subsequent 100 minutes also paid off.