Wolfwalkers (2020 | Ireland | 102 minutes | Tomm Moore & Ross Stewart)

Cartoon Saloon simply cannot stop knocking them out of the park. Fans of the idiosyncratic hand-drawn magic that Studio Ghibli is known for should also be delighted with the path that this Irish animation studio has similarly begun forging for itself, frequently with the co-production assistance of French studio Melusine, over the past decade or so. Now streaming on Apple tv+, Wolfwalkers, the third film by Cartoon Saloon co-founder Tomm Moore (after 2009's The Secret of Kells and 2015's Song of the Sea), here co-directing with Ross Stewart, easily keeps that perfect record intact.

It's Kilkenny, Ireland, in the year 1650 – the middle of Oliver Cromwell's conquest of Ireland on behalf of the English Parliament. A young English girl named Robyn Goodfellowe (Honor Kneafsey) has been brought to the area with her hunter father (Sean Bean), who's been sent on a government-mandated mission to eradicate the wolf population in the nearby woods. Robyn wants to prove her worth as a young hunter herself, but when she strikes out into the forest on her own, an encounter with the local wildlife doesn't exactly go as planned. She ends up making her first local friend in Mebh (Eva Whittaker), a girl about her age with a full-body-sized shock of red hair and the ability to transform herself into a wolf – as Robyn quickly learns, Mebh and her mother are magical beings of Irish folklore known as "wolfwalkers". Robyn soon finds herself with a choice to make: obey her father and conform to society's expectations of her, or help her new friend, whose family, home, and entire way of life are threatened by the humans quickly encroaching on their space.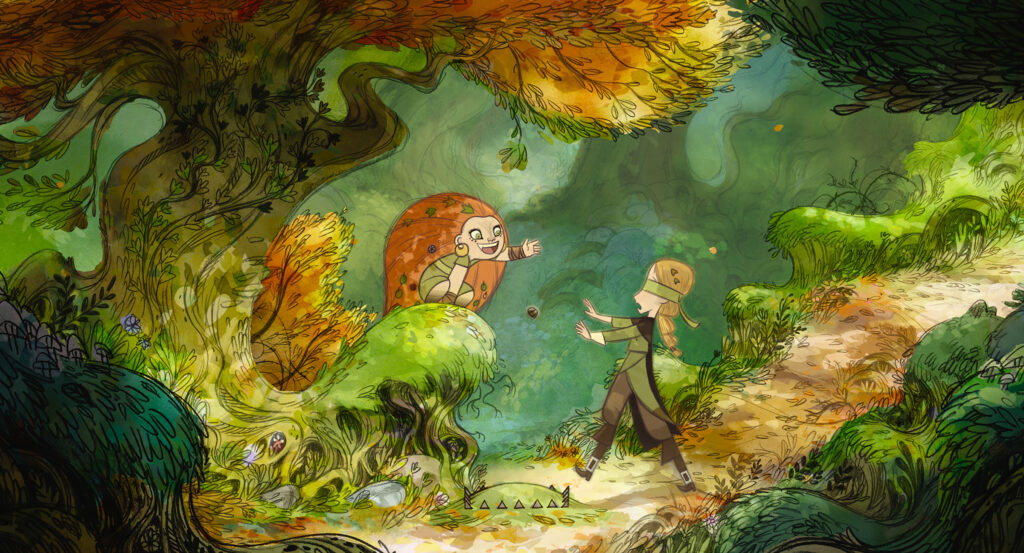 This film is all about tensions. There's political tension between the English and the Irish and between the ruling class and the peasants, religious tension pitting Christian rules against pagan traditions with magical overtones, and tension contrasting civilization's drive toward standardization with the wildness of nature. Ancient pacts are betrayed, truces tested, oppressors do their best to stamp out deeply-held traditions, and young people push against their parents' boundaries.

The quality of the animation, like everything Cartoon Saloon has put out, is absolutely unmatched. Intricately detailed line drawings, densely packed with patterns of nature, geometry, and story references, are filled in with watercolor effects, each frame a hand-drawn work of fine art sprung to life. Interesting new versions of irises and wipes take us in and out of scenes. Sometimes the image is aggressively flat, perspectiveless 2D, and we see the town laid out like a diagram, or soldiers marching down the middle of a hall as if they're trapped in a tapestry. At other times, especially in scenes of intense action or emotion, the animation becomes more raw, and it's like we're seeing a not-quite-complete draft of the characters, still with the original basic-shape guide lines left in the image, their urgency leaping off the page.

Although fully grasping the political background of this era might require some additional reading for some American audiences, the story is a fairly simple and straightforward one, centering on friendship and the testing of boundaries that comes with growing up. Its messages elevating respect for nature and cultural heritage, as well as its championship of friendship and family, all easily resonate today. Its emotional arrows hit their targets with ease. And its dazzling animation is a vibrant delight, a visual antidote to the plastic-looking CGI that gets churned out by the truckload and a work of visual art that will be a gift to kids and adults alike for generations to come.
---
Wolfwalkers is now streaming on Apple tv+.