The Seattle International Film Festival officially wrapped last weekend. They're currently in the midst of their Best of SIFF Programming, so we're revisiting some of our festival highlights for posterity with some short reviews. In this batch, a Beto documentary and a beta-bro dark comedy.
---
The Art of Self-Defense (USA | 2019 | 104 minutes | Riley Stearns)
Jesse Eisenberg is well past the point of being typecast as a stunted and anxious beta with streaks of dark resentment. It's fully his brand and he's ridden the wave from teen roles in the Squid and the Whale to collegiate pre-billionaire in The Social Network to anxiously jealous writer in The End of the Tour all the way into a mid-thirties office accountant in this pitch-black satire.
Early on, in the permanently beige office, we get a sense of his insecurities through awkward break room conversations and a longing to understand the alpha sales bros by covertly Xeroxing a copy of an ultra-butch men's magazine (one headline "Wolf: the pet for a man" cuts in sharp contrast to the trembling dauchsund waiting for him on his couch). In the wake of a brutal unprovoked street assault on a walk to fetching chow for his beloved pooch, he sets aside his impulse to buy a handgun (from a caustically frank clerk whose enthusiasm isn't deterred by a command of the dangerous statistics of firearm ownership) and instead finds a new sense of self in Alessandro Nivola's deeply unconventional dojo. There, he begins a quest to conquer his fears of other men via the ancient art of karate. Some color floods into his life and he swells with the pride of having earned a prized yellow belt. He strikes up tentative friendships and observes a hilarious children's class taught by true-believing Imogen Poots. As he progresses, his training includes commandments to learn a manly language like German and to listen to metal to toughen up for the more advanced night class. There, the absurdity and dry comedy takes a sharp turn for the deeply dark and violent, although ultimately it's in service of leading our new adult karate kid to deal a deadly crane kick to a culture of toxic masculinity. (☆☆☆☆)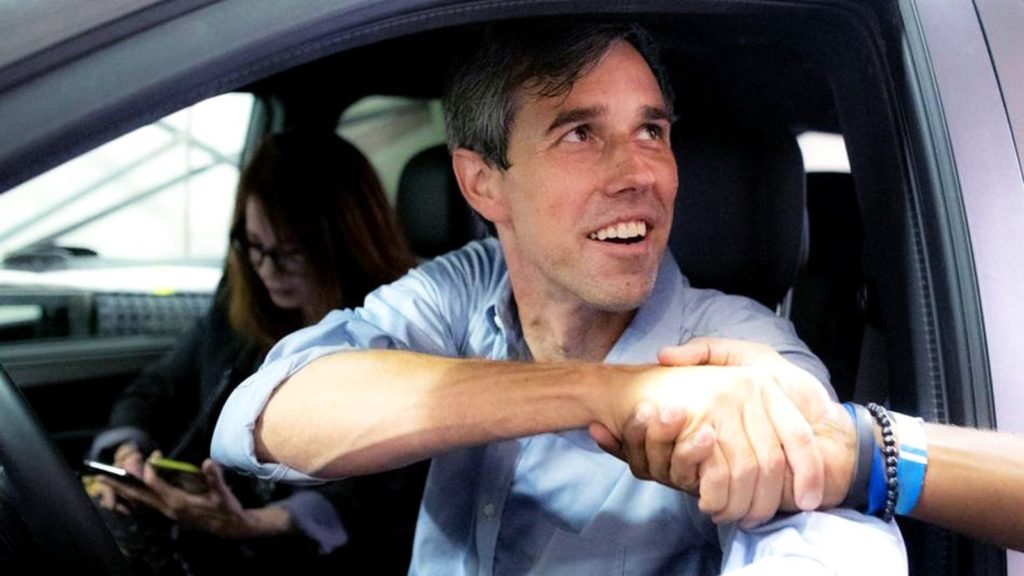 Running With Beto (USA | 2019 | 95 minutes | David Modigliani)
Despite it's co-production from the Crooked Media bros, David Modigliani's documentary might not necessarily make a compelling case for a President O'Rourke as he vies among the dozens of other democrats angling for a shot to evict Donald Trump from the White House in 2020. However, regardless of your feelings about this sweaty former punk rocker with a penchant for gesticulating from any available elevated platform, I found this to be a deeply inspiring political documentary in and of itself. It is an engaging inside look not only at the often thrilling, often grueling day-to-day mechanics of running a grassroots campaign, but also a reminder of all the people who committed themselves into a seemingly-impossible pursuit to capture interest and build enthusiasm one indifferent voter at at time.
Sure, the enviable access resulted in ample footage with the candidate's upbeat and grumpy moments stuffed into a car with his two trusty indefatigable aides as they visited all 254 counties in the great state of Texas to gain name recognition. Though moments with and without his family, we get an immediate sense of the personal toll incurred by running for national office. It plays the hits, tracking some of his more successful social media stunts and heartfelt advocacy against border separations in his El Paso backyard. And, of course, we are there for Beto's response to a question about NFL player protests and track how this frank and candid viral moment catapulted him into the national conversation.
As much as I'm swayed by the appeal of Beto's personal brand, he wasn't even the most engaging person in the documentary. Instead, even with incredible fly-on-the-wall access to the candidate, the filmmakers split the focus to spotlight the volunteers who threw themselves headlong into his campaign. In particular, the three community organizers — a foul-mouthed supporter from the reddest of red counties plastering signs wherever she can, a formerly-republican lesbian juggling voter registration efforts while trying to convince her conservative family to look beyond Fox News, and a teen survivor of a school shooting who leads a gun control advocacy group — were the real stars. Knowing that they ultimately failed to unseat the truly loathsome Ted Cruz often made the movie difficult to watch, but seeing how they channeled their frustration with Trump's election into building a movement that'll outlast one campaign left me feeling slightly less dejected about the future. (☆☆☆☆)
---
Keep track of the SunBreak's SIFF coverage on our SIFF 2019 page, plus news, updates, and micro-reviews on Twitter @theSunBreak.