The Seattle International Film Festival officially wrapped last weekend. They're currently in the midst of their Best of SIFF Programming, so we're revisiting some of our festival highlights for posterity with some short reviews — in this batch, two films that examine Chinese-American exchanges in very different contexts.
American Factory (USA | 2019 | 114 minutes | Steven Bognar, Julia Reichert)
Steven Bognar and Julia Reichert's documentary about the arrival of the Fuyao Glass Factory's in Dayton, Ohio opens with two striking sequences. The first takes us back to a chilly 2008 morning in the depths of the Great Recession as a General Motors factory succumbed to the economy despite all the thoughts and prayers that the local community could muster. The second presents the balletic, nearly abstract journey of an airplane hangar full of pure white sand into thousands of precisely-engineered windshields by way of an almost entirely automated production with little opportunity for the fickle whims of ordinary humans to introduce errors. And so the stage is set for a compelling investigation of melding cultures that ensues when a Chinese billionaire brings his company to a job-starved blue-collar town seven years after the production facility closed.
Surely, the under-employed townspeople are eager for quality work — crowds fill community auditoriums with resumes in hand for recruiting sessions — and for many of the fortunate thousand to be hired, the return to the factory is emotional. Many lost their homes and have spent the better part of a decade struggling to maintain a middle class existence; so there is a sense of relief in their return to the revamped factory, albeit at lower wages than the jobs that left them. Similarly, America and the industrial midwest is full of surprises for the hundreds of Chinese employees brought in to train and supervise the opening of this high-stakes experiment in international cooperation.
For a while, these cultural discoveries are played for good-natured laughs. The Americans are amused that their Chinese counterparts fish for carp in the river; the Chinese are incredulous about how chatty the "fat-fingered" Americans are on the job. When the enigmatic billionaire owner pays a visit, we get the sense of his extreme expected level of control by his insistence that it won't rain in October, complaints about of the Feng Shui of a gigantic garage door, and frustration that a code-mandated smoke detector spoils the aesthetics of the lobby. Chinese managers get seminars on how to stoke the egos of their employees; the Americans raise concerns about working hours and safety and fret about break rooms. Eventually, though, the comedy of culture clash fades, beginning with the stirring of tensions when Sherrod Brown makes an unscripted plug for unionization at the plant's grand opening and escalating as people's bodies are sacrificed to productivity and jobs are lost for those who defy the company line and try to organize workers. Part of an effort to boost morale includes a field trip for a few lucky Americans to see how things work in China. The contrast is astonishing: employees start the day with team enthusiasm drills, work extended weeklong shifts that allow them to see their families only twice per year, and participate in annual company-wide celebration with group weddings and talent shows (standout number: songs about intelligent lean manufacturing). Some of this feels like something out of a parody (the Ohio delegation performs the YMCA), but the filmmakers are careful not to take sides, even as calls for unionization grow and become contentious. Frustrations on both sides are given credibility, but one leaves the film with the sense that differences may be irreconcilable when one side has the perspective that "the point of living is to work". (☆☆☆☆)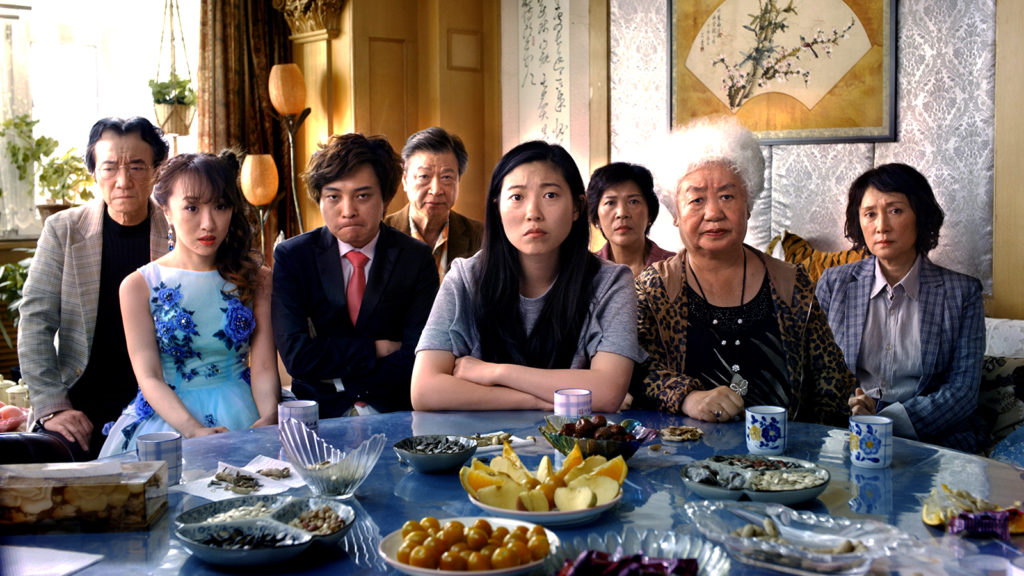 The Farewell (USA | 2018 | 98 minutes | Lulu Wang)
The film opens in China, in an incredibly placid waiting room. A grandmother waiting for her test results chats on the phone with her granddaughter who's navigating the streets of New York twelve time zones away. The younger woman is played by the rapper and comedian Awkwafina, dressed and toned down substantially from her previous break-out roles as outsized personalities in Ocean's 8 and Crazy Rich Asians. Here, as a first-generation immigrant trying to make it work as a writer, she's absolutely terrific in director Lulu Wang's semi-autobiographical story of family that reunites in China under the pretense of a rushed wedding in order to visit a matriarch without letting her know about her terminal cancer diagnosis.
Between her close relationship with her grandmother and a young American's sense of justice, she has reservations — so much so that the rest of the family planned to exclude her from the trip for fear that her transparent emotions would get the better of her — but she does play along against her better judgement. The ensuing shenanigans are wondrous and revelatory creation. The cousin going through the motions of a hasty marriage to a Japanese girlfriend seems absolutely miserable, but no one notices, chalking it up to shyness and happy to ignore any oddities amid the pleasures having everyone together, feasting on home cooked meals around a lively crowded table. As the grandmother frets about putting up appearances, her sons drink and discuss their decision to keep their mother in the dark.
As Awkwafina's character negotiates the complicated feelings of belonging awakened by her return to China, the film maintains a near-perfect balance of tone: funny, tender, surprising, and ultimately eye-opening to cultural differences in who's responsible for bearing the burden of grief. It also has one of the most shocking post-credits sequences I've seen all year. (☆☆☆☆☆)
---
Keep track of the SunBreak's SIFF coverage on our SIFF 2019 page, plus news, updates, and micro-reviews on Twitter @theSunBreak.