The Seattle International Film Festival officially wrapped last weekend. They're currently in the midst of their Best of SIFF Programming, so we're revisiting some of our festival highlights for posterity with some short reviews. In this batch, social justice stories born from Oakland, California.
---
We Are the Radical Monarchs (USA | 2019 | 96 minutes | Linda Goldstein Knowlton)
We Are the Radical Monarchs, about an Oakland-based organization that takes the Girl Scout experience and re-centers it around young women of color, makes you feel like the country would infinitely better if there was just a little more Oakland to go around. It's an incredibly feel-good documentary that still remains resolutely grounded in the lives of these girls who make up the first troop and clear-eyed about the enormous time and financial requirements incurred by the two women who launched the organization. The girls have exceptionally winning screen presence as the film follows them earning merit badges for completing timely, eye-opening, and deeply relevant social justice units over several years. The immediate reaction is shock that this concept hasn't exploded across the country to dozens of other woke cities and liberal enclaves. But film emphasizes the founders' care in starting up even one new chapter. They're experienced community organizers who are candid about the commitment, nuance, and dedication needed to get these things right. Even while you wish that more kids had much-needed access to this type of curriculum and community support, the slow and deliberate rollout makes a lot more sense in the end. (☆☆☆½)
---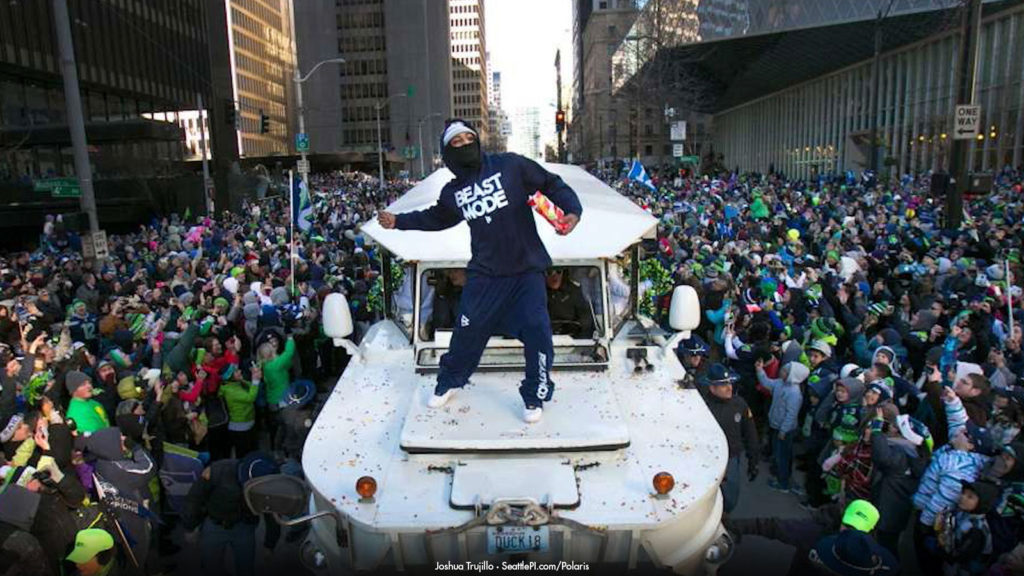 Lynch: A History (USA | 2019 | 85 minutes | David Shields)
Let's just say that I felt the rumblings of a BeastQuake skipping across my heart when I paged through the SIFF catalogue and saw that a video collage about sports and society from UW Professor David Shields that assembled assembled from 700 clips to celebrate Marshawn Lynch was having its world premiere at the festival. After seeing this hypnotic video collage about social justice, Our Very Greatest Seahawk, and his contentious relationship with sports media, I was not disappointed. Yes, there is footage of baby Marshawn already outstanding while playing high school football for Oakland Tech, ascending to stardom at Cal, coping with the snow after being drafted to Buffalo, and inciting seismic plays in Seattle. But David Shields's documentary isn't exactly a tell-all about the on-field genius of beloved Marshawn Lynch. Instead it casts him among the many other progressive and revolutionary titans springing from Oakland along with relevant quotes contextualizing a variety of forms of activism as part of a continuum. To an extent, the film's form owes a debt (and may pale in comparison) to Raoul Peck's masterful I Am Not Your Negro, but in place of the verbose writings of James Baldwin, he instead spotlights an athlete's reluctant relationship with the media and studied silence to make larger points. In fact, although in the popular imagination, Lynch was a sphinx of legendary one phrase press conferences, Shields subtly builds a case for the specificity of his silence: a reluctance to participate in a particular kind of media. That is, the documentary reminds us that in other contexts, Marshawn had no trouble speaking his mind in serious interviews or just goofing off on his favorite late night talk shows. And although the film isn't specifically about football, it does have the benefit of allowing fans to watch the Seahawks win the Super Bowl again and feel your heart get warm and fuzzy when President Obama cracks Beast Mode jokes during a team visit to the White House. But be aware that you'll be subjected to repeated viewings — from multiple angles, from the telecast, from fan reactions — of the nightmarish closing seconds of the following year's Super Bowl. For me, and I suspect for countless other fans, the feelings evoked by revisiting Russell Wilson's inexplicable and intercepted pass instead of a seemingly obvious handoff to one of the league's premier running backs for game-winning half-yard carry, will be a stark reminder that some emotional wounds may never heal. (☆☆☆☆)
---
Keep track of the SunBreak's SIFF coverage on our SIFF 2019 page, plus news, updates, and micro-reviews on Twitter @theSunBreak.