The Seattle International Film Festival officially wrapped earlier this month. They're currently in the midst of their Best of SIFF Programming, so we're revisiting some of our festival highlights for posterity with some short reviews. In this batch, a trio of female-fronted paradigm-flipping comedies.
Late Night (USA | 2019 | 102 minutes | Nisha Ganatra)
Directed by Nisha Ganatra based on a script by (and co-starring) Mindy Kaling, there are no shortage of pleasures in watching Emma Thompson struggles to get her groove back as a talk show host. The film takes place in a fantasy world where a British woman (Thompson) has hosted a late night show for decades and where a factory quality engineer with a fondness for stand-up can stumble into one of the most elite writers' rooms in Manhattan on the basis of an impromptu move to make the staff less white and male in one quick diversity hire. Thompson is predictably wonderful, adding depth to a role that could've easily trended brittle: an aging comedian and terrifying boss whose once beloved high-minded show is slipping away from her due to a mix of neglect and network pressures. The rest of the supporting cast is stacked, too —  John Lithgow as the professorial husband, Reid Scott trying to shake his Veep vibes as a head writer, Amy Ryan as a future-minded executive, and a surprisingly chameleonic Hugh Dancy as a cryptic love interest — amongst many other comedy all-stars. A sweet delight that's follows the beats of a rom-com in the setting of a workplace, it earns laughs while also being insightful women in comedy and the perils of daring to get older in show business. ☆☆☆☆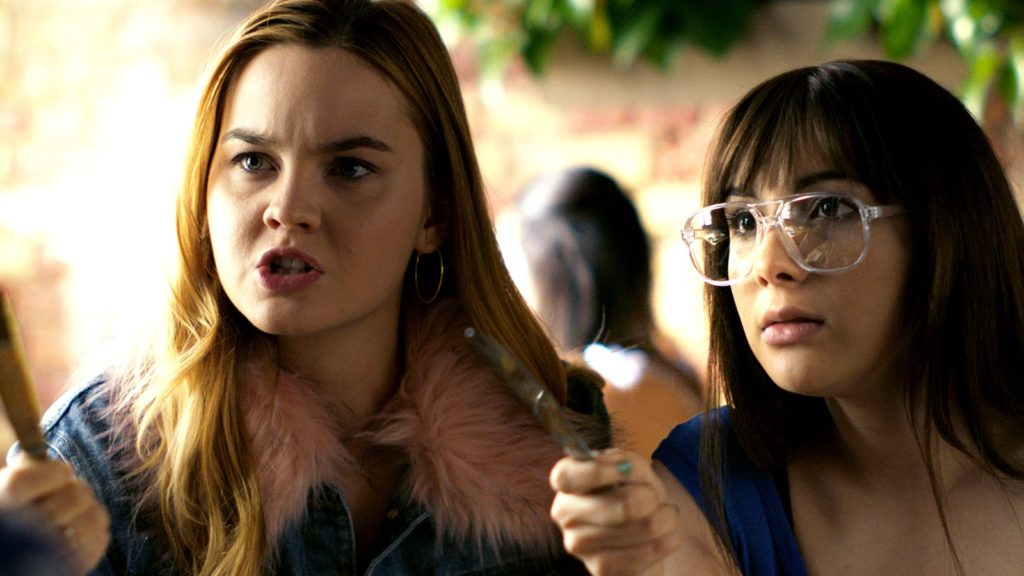 Banana Split (USA | 2018 | 88 minutes | Benjamin Kasulke)
In what has to be a specific subcategory of the Bechdel-Wallace test, the two female leads of Ben Kasulke's directorial debut fall into a heady platonic romance only after pledging that talk of a guy is specifically off limits. But before we get there, the film won me over with a montage, in which April (Hannah Marks) and Nick (Dylan Sprouse, Jughead's blond surfier twin) go from "just" friends, to dating, to prom, to broken up over un-coordinated cross-coastal college acceptances, all in the span of a perfect Carly Rae Jepsen song. From there, the movie is a neon-colored countdown through the waning days of summer break until freshman orientation. April spends her remaining days of freedom sneering at customers' concessions choices at a local cinema dayjob and Instagram-stalking Nick and his mysterious new-to-town summer fling, Clara (Liana Liberato) from the comfort of her bedroom. Salmon dinners with her mom (Jessica Hecht) and filthy-mouthed wise-beyond-her-years Nick-obsessed little sister provide comic interludes. Eventually, her only other friends drag her to a party where they know they'll find Clara.
When they meet, awkwardness ensues, but shots, singalongs, and their aftermath provide an immediate cure, and before you know it, they're on a Tacocat-scored friend-date hiking in Griffith Park, sharing the titular Banana Split while dishing about Nick's sex moves and puzzling over his unironic love for "Call Me Maybe" [Ed: NOTHING WRONG WITH THAT.] There, they institute some rules — the first rule of Nick Club is no talking about Nick Club; the second is to keep this friendship on the DL. This makes things a bit complicated — and sure to explode — particularly with a multi-purpose third-wheel in the mix (Luke Spencer Roberts) juggling duties as Nick's stoner buddy, Clara's cousin, and April's friendzoned pal. All of this adds up to an endearing teen romance, with many familiar notes like a wild road trip and a killer soundtrack, except that it's about a roller coaster of a relationship between two characters who have no interest in sleeping with each other. (☆☆☆½)
Greener Grass (USA | 2019 | 101 minutes | Jocelyn DeBoer, Dawn Luebbe) It's right there in the title, but there's no level of too stoned to be when watching this massively absurd Lynchian horror comedy. But before we get there, the film opens with an episode of dry candy-colored absurdity: suburban stay-at-home moms played by Upright Citizens Brigade alums Dawn Luebbe and Jocelyn DeBoer (who wrote and co-directed the film) are watching a neighborhood soccer game. One admires the other's new baby, and her friend gives her the child for keeps.
That the de facto express adoption is barely given a second thought initially plays as broad comedy, but it's the first of many examples of extreme politeness and manners that unfolds in this candy-colored gated community of adult-braces-wearing strivers sketch keeps playing out for what feels like too long, until gradually it descends a kind of horrifying gravity. My favorite gag, among many, is when the weirdest kid in a very weird neighborhood (Julian Hilliard), constantly out of sync with expectations, is inexplicably transformed into an adorable adolescent Golden Retriever ("Icee") at a pool party. This canine turn of events dashes his mom's hopes of raising a prize accountant, but his dad is not-so-secretly pleased by having a son who's great at playing catch, which is both dark and relatable.
This movie is entirely ridiculous at every turn. But I stuck with the parade of deadpan insanity with increasing admiration of their commitment to playing these jokes all the way out and into surprising new territory. In the end, it overcame my reservations and I have to admit that, for better and worse, the film and its arresting images sneakily wound up as the SIFF movie that may stick with me the longest. (☆☆☆½)
---
Revisit the SunBreak's SIFF coverage on our SIFF 2019 page, plus news, updates, and micro-reviews on Twitter @theSunBreak.