The Seattle International Film Festival officially wrapped earlier this month, but we're revisiting some of our festival highlights for posterity with short reviews. 
---
The Days to Come (Catalunya | 2019 | 95 minutes | Carlos Marqués-Marcet)
Sometimes reality presents incredible opportunities to filmmakers, even when they're not making documentaries. Here Marqués-Marcet completes his loose trilogy of complex relationships (10.000 KM, Anchor and Hope) with a partially-improvised story of an unplanned pregnancy that benefits from extremely intimate and ongoing access to his real life friends (Maria Rodriguez Soto and David Verdaguer) along their actual pregnancy. We meet the Barcelona bohemians, still fairly new in their relationship, laughing and crying over the results of a pregnancy test. He's bushy haired lawyer with a giant moustache and designer eyeglasses, working on the feel-good side of representing the unjustly accused. She's a self-described mess of a person who's nearing the end of a fixed-term contract punching up website content with SEO-attracting inflammatory headlines.
An initial "not now" eventually gives way to "I don't not want to" and they decide to keep the baby instead of their appointment at the abortion clinic. She keeps it quiet at work; he gets drunk with his sappy supportive buddies who celebrate by breaking into their old school and goofing off. The initial giddiness of this new adventure, though, gives way to reality: negotiating public schools over produce shopping, strategizing over sleep strategies, and an impromptu discussion about marriage or lack thereof over a family dinner. While she's increasingly bored at home, he takes a better paying, less-principled position with longer hours. The reality-adjacent nature takes a few more turns down the meta-realistic as we watch Maria watching scenes of her own parents' VHS-era maternity videos. Between the necessarily close hand-held camera work and warm natural light, the keenly observed chronicle of the ups and downs of the relationship through this precarious period — including pregnancy sex, fights over a contentious glass of wine, walking through the city to naturally induce labor, and to what might even be the actual childbirth — adds up to a very effective and affecting piece of filmmaking. (☆☆☆☆)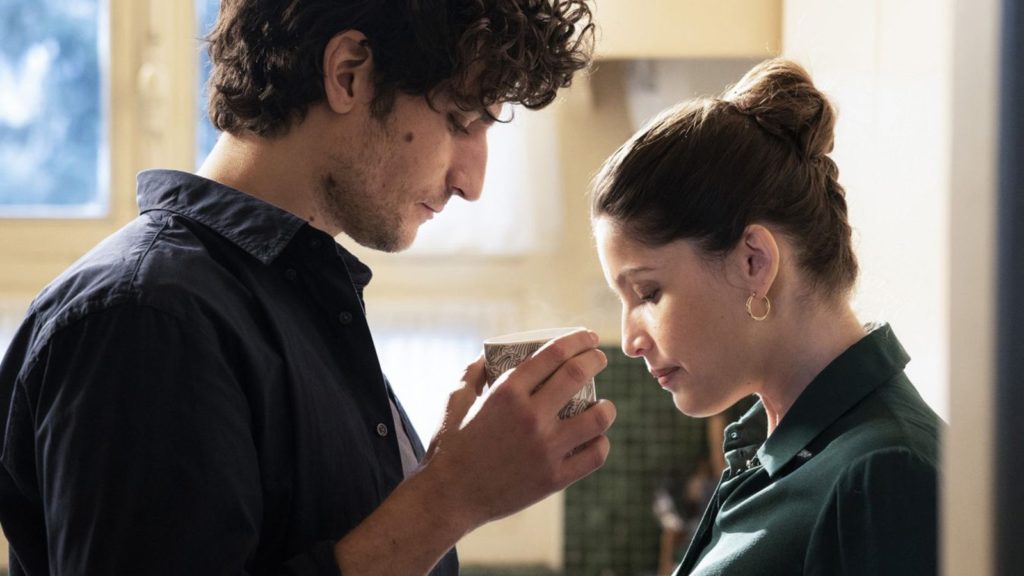 A Faithful Man (France | 2018 | 75 minutes | Louis Garrel)
Having appeared as an actor in many of his father's films, Louis Garrel has taken up the family business, directing himself, his wife Laetitia Casta, and Lily-Rose Depp in a twisty, often humorous morality fable. Within the span of a few minutes, Garrel learns that his live-in girlfriend (Casta) has been cheating on him with his best friend, that she's having said friend's baby, and that they'd like him to move out before the wedding, which he's invited to attend, in ten days. For such a shocking series of revelations, they both treat it as a matter-of-fact transaction. He maintains his composure almost the whole way through, until he stumbles down the front stairs, out of her life, and into a post-collegiate montage.
By the time we're caught up with his life, he's seeing his old flame from across a graveyard at that old friend's funeral. The reunion re-ignites long-simmering feelings, an unrequited crush, and the suspicions of a wide eyed child with wisdom beyond his years and a fondness for police procedurals. As the story unfolds with dueling narration, the three vertices of a strange love triangle form. As romantic issues come to a head, Garrel winds up entertaining a very French proposition that directly challenges the film's title. With an attractive cast with obvious rapport, the film has a breezy yet immersive feeling of French New Wave revival. With the voiceovers, scheming and counter-scheming, amateur sleuthing, and the ongoing mystery of an untimely demise, it's all a bit melodramatic and occasionally preposterous. Nevertheless, at a slim and engaging 74 minutes, it accomplishes more in terms of storytelling and charming character work than many prestige television dramas do over the course of an entire season. (☆☆☆☆½)