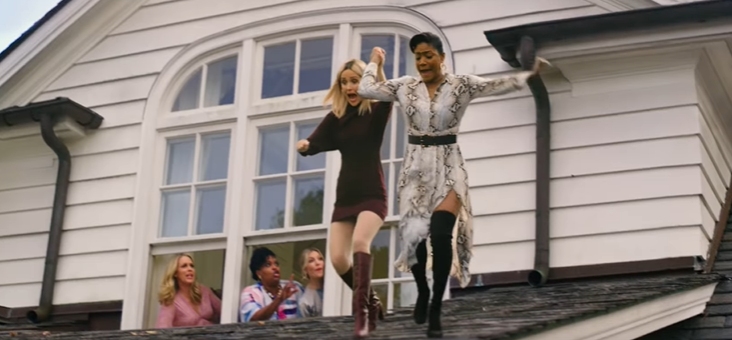 (2020 | USA | 83 minutes | Miguel Arteta)
Let's get this out of the way first: Like a Boss isn't a great movie by any objective definition. The plot is at best improbable, and the plotting is middling, some characters are caricatures (Hi Salma Hayek, Hi Billy Porter), and it's messy in a lot of ways. Even trying to write this review the next day, I'm having trouble finding anything truly memorable. It's also very funny at times and has a great lead from an actor that has mostly played supporting roles up until this movie. It's high-calorie junk food in cinema format, and that's fine.
I tend to think viewing a movie like this through the usual film critic lenses misunderstands what a movie like Like a Boss is for. Like a Boss is a raunchy comedy that exists only as a place for Tiffany Haddish to be funny. Expecting anything more is a recipe for disappointment. I don't think that's necessarily a terrible thing considering how many sub-par, but still beloved, comedies Jerry Lewis starred in over his long career. Moreover, if I saw Tiffany Haddish in movies as frequently as Timothée Chalamet pops up, I'd be happy.
Haddish and Rose Byrne star as Mia and Mel, a pair of life-long friends who have their own struggling beauty company. Byrne's Mel handles the finances and cannot bring herself to telling Haddish's Mia that the company is about half a million dollars in the red. When cosmetics tycoon Claire Luna (Salma Hayek) offers to pay off their debt and add M&M to her portfolio, it feels like a dream come true for Mel. Mia is far more skeptical, and is quickly proven right when Luna's demands are antithetical to the brand Mia and Mel created and should either Mia or Mel leave, she'll take a majority ownership position.
There are some funny people in the cast (who are also funny in the movie), including Jennifer Coolidge, Billy Porter, and Jimmy O. Yang (Jian-Yang from "Silicon Valley"), but this is Tiffany Haddish's movie and she carries it on her shoulders. She's easily my favorite breakout comedian over the past few years and it's been a delight to see her star so ascendant. I don't want to give too many examples because they're best discovered without spoiling.
In this movie, she shows off her comedic range that includes, much to my surprise, even some physical comedy. It's a big part for a big personality in a small movie. Honestly, I think watching Tiffany Haddish just being funny for 83 minutes is a treat. Anything longer in this middling movie might be too much, but I appreciate that it taps out after fewer than 90 minutes.
I was entertained and got what I had hoped for, but I wasn't expecting a masterpiece of cinema. I was expecting a fun time watching a funny lady on screen. Adjust your expectations accordingly.