I'm Thinking of Ending Things (2020 | USA | 133 minutes | Charlie Kaufman)
For arthouse film nerds, the weekend's most anticipated streaming release will no doubt be the arrival of Charlie Kaufman's I'm Thinking of Ending Things on Netflix, which will provide plenty of fodder to puzzle over during the long holiday weekend. In it, a young woman (the reliably dazzling Jessie Buckley) takes a long uncomfortable car ride with newish boyfriend Jake (Jesse Plemmons, hovering somewhere between over-eager earnest with a trace of simmering frustration and self-doubt). From the jump, we're privy to her inner monologue, which largely concerns the impending demise of their relationship, which makes the occasion of their trip — a meet-the-parents dinner — all the more uncomfortable and confusing. In typical Kaufman fashion, any expectations about the nature of their reality are thrown into question once they traverse the bleak landscape and arrive at his childhood home where Toni Colette and David Thewlis (ghoulish caricatures of of awkward parents, bursting with protective, overbearing energy) await. Without giving too much away, the flow of time and any sense of internal logic become unglued over the course of their visit, and the long, creepy, snow-pelted drive back to the city in the thick of an Oklahoma blizzard is all the more unsettling. It's a film about loneliness and regret, stuffed with cultural references (and overt quotations) from poet Eva H.D. Later, writer David Foster Wallace, philosopher Guy Debord, and even film critic Pauline Kael. Cinematographer Łukasz Żal (twice Oscar-nominated for his stark and stunning work with Paweł Pawlikowski on Ida and Cold War) makes the most of occasional pops of saturated colors amid the otherwise monochrome winter landscapes and bleak claustrophobia of a remote farmhouse.
Honestly, I thought of ending things — only in the form of the "stop" button on my Netflix player — many times and with increasing frequency and intensity while watching last night. While the structure is intentionally confusing, it's never indecipherable, yet as it hurtled toward its final revelations I found myself annoyed at having spent time in the company of its sad, indulgent, self-obsession. My favorite Kaufman movies have been realized by other directors (Michel Gondry's Eternal Sunshine of the Spotless Mind and Spike Jonze's Adaptation). Most of his scripts speak to the dangers of living too much in your own head; so I'm intensely curious to know how this cerebral material, itself an apparently loose adaptation of an Iain Reid novel, would've fared in someone else's hands. Still, I wouldn't be surprised if mine is a minority opinion and the film has a long shelf life among fans for whom deciphering the details and strange turns (a dream ballet from Oklahoma! is not even the most bizarre) on repeated rewatches sounds more like a reward than a punishment.
Instead of committing to our usual star ratings, a GIF summarizing my mental state after the credits rolled. Your mileage will certainly vary.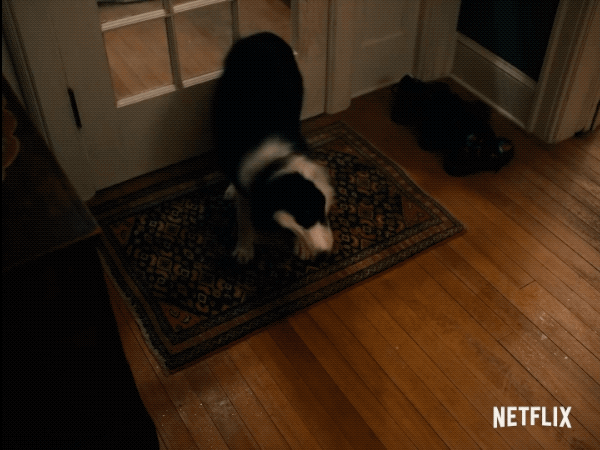 ---
In other streaming news, families, will undoubtedly be more excited to tune into Mulan, Disney's 200 million dollar live action remake of the animated classic. Like Trolls before it, the would-be blockbuster is skipping theatrical release and going straight to video on demand at an ultra-premium price point: $30 on top of the existing Disney+ subscription fees. It's a big swing toward recouping some of the enormous budget, but probably a safe gamble for parents starved for new original content to entertain cooped up kids. Those with more patience will be able to see it as part of their subscription in December for no extra fees.
In local arthouses, SIFF's Virtual Cinema adds My Prince Edward, a Hong Kong-set story of a wedding planner torn between a sham marriage and a very long engagement, to their extensive streaming marquee; Northwest Film Forum showcases Brazilian werewolf fable Good Manners (As Boas Maneiras) as part of their Nocturnal Emissions monthly horror showcase; and Grand Illusion supports a reissue of Claire Denis's 1999 take on Herman Melville, Beau Travail.
---
Header image courtesy Netflix