Black Box (2020 | USA | 100 minutes | dir: Emmanuel Osei-Kuffour Jr.)
Psychological thrillers are my jam, and Emmanuel Osei-Kuffour Jr.'s Black Box packs a punch in that department. While it has producers in common with Get Out and there are definite similarities (I would even go as far as calling it an homage of sorts), it doesn't focus on race as the crux of the conflict. There's absolutely nothing wrong with that avenue and I am infatuated with Jordan Peele for creating and cultivating that type of thriller, but this film has a different tack that barely involves race at all and you won't find me complaining about the change of scenery. I'm just excited to see more actors of color dominating the screen within this genre without the ridiculous exploitation that typically comes along with it.

Mamoudou Athie's portrayal of Nolan, a man who's been in a car accident that killed his wife and left him with severe brain damage, at first seemed cold and aloof. I held my judgement in the hopes that this was a setup to add drama and intensity when the time was right… and I wasn't disappointed. I feel like the story could have been more effective with a bit more onscreen connection and chemistry between Nolan and his daughter Ava (played somewhat stilted by the obviously talented Amanda Christine) as well as his best friend Gary (Tosin Morohunfola). Even though it ended up proving true to the character's story, we as the viewers didn't know that until much later and by that point it was way too late: the sense of disconnection in his relationships was firmly in place, and in the end the new-found affection felt forced. That being said, Black Box more than held my interest and then some for the entirety of its 100 minute run time.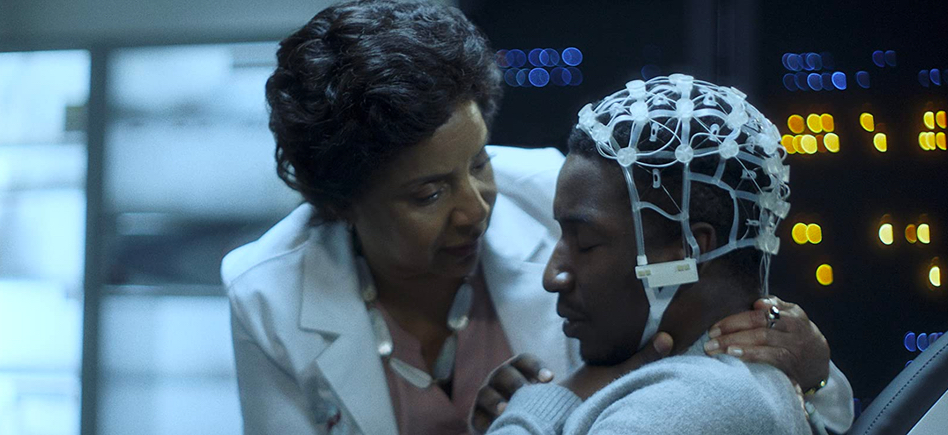 Phylicia Rashad was true to form as the calm and knowledgeable Dr. Lilian Brooks who ends up turning us on our heads. It was pretty obvious from the beginning that they cast her not only for her incredible talent but because viewers all over the world already know and love her as the headstrong sweet and sassy Claire Huxtable. Using pre-conceived notions of an actor to give you a false sense of security has been done so many times — it's like casting Betty White in a role where she offers fresh baked cookies laced with arsenic (I'd watch the hell out of that movie) — but folks keep using it for a reason: it works and adds a little nostalgic gut punch. As an aside, it was completely unbelievable that she was a brilliant doctor who could also code the complicated software necessary for her experiments, but I digress.
There is an actual turn in there that left my mouth agape for a moment. Admittedly, I was waiting for it, even expecting it, but I wasn't sure what it would be. I do like being taken by surprise completely, but if you're going to go with a somewhat predictable storyline (especially in a thriller), make it fun and make it nasty.
One plot point I especially enjoyed, because it made me uncomfortable, was the direction Athie veered near the end. It was disturbing, but there was a good reason for it. To that end and without giving too much away, I don't think the story concluded in a way that would have had this been true to life, but I appreciate the kindhearted ending and I'm honestly glad for it. Right now especially, we need a reminder that even the worst people can sometimes do the right thing.
You can find Black Box on Amazon Prime Video starting today (October 6th) and while I'm not one to tout that particular streaming service, this film is well worth your while.