Nocturne (2020 | USA | 90 minutes | Zu Quirke)
Last week I chatted you up about Black Box, Blumhouse's first release of four on Amazon Prime this month; an interesting psychological thriller that, while slightly hokey, still hit the spot when it came to Halloween movie season. I'm not one for blood and guts horror (unless it's of the B variety), so the lack of gore means another of Blumhouse's four films released this month, Nocturne, can be put in the win column: very little blood and an abundance of devilish deeds.
Vivian (Madison Iseman) and Julie (Sydney Sweeney) Lowe, twins attending an intense performing arts high school, have found themselves in the midst of a sibling rivalry. As these things go, there's always the sister that ends up jealous and going on a rampage. While "rampage" may be a little too hyperbolic, Julie is definitely letting her inner demon out after drowning in the shadow of her sister who recently snagged a highly coveted spot at Juilliard and a solo in the upcoming senior concerto. Finding the notebook of a former student who had just two weeks earlier committed suicide, Julie begins to suspect that if she plays her cards right, she may get exactly what she wants.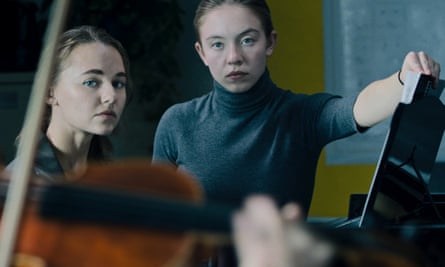 There's no cheeky side-eyes on this film, no poking fun at itself and no break in the drama. It's pure intensity from beginning to end, which lends itself to a pretty convincing storyline. While it may be a little tongue in cheek, the writing and acting were on par for a film like this and I didn't roll my eyes at any of the lines (just the ridiculous teen angst necessary to the plot). I was wondering what I'd find with Iseman playing the prom queen-esque "better" sister after her somewhat flat effort in the Jumanji reboot series. This role gave her the opportunity to show her range and she got about 3/4 of the way there. While the character felt a little less than interesting, she wasn't just the ditzy blonde this time. Perhaps it was the writing that was partly at fault, or just the simple fact that they didn't want her character to overshadow the mousy Julie who had to come into her own.
I was a little… confused about the ending. I won't divulge the source of my confusion of course, but I think they were attempting something clever but went a little overboard and instead it just seemed silly. All in all, I enjoyed it but it doesn't really deserve additional viewings. If you're looking for a decent psychological (and slightly bloody) music-themed thriller, you could do worse than Nocturne.
You'll find Nocturne streaming on Amazon Prime Video starting 10/13.