Michelle Witt, artistic director of the UW World Series, has since her advent here strived to broaden the offerings in the various series to encompass more unusual performers, and it was an inspired choice to present Sō Percussion on the Chamber Music Series recently at Meany Theater.
There were only four performers, but a stageful of instruments in three groupings, each one lit as the performers moved to it for the next piece. Most of Sō Percussions's music is commissioned, thanks to its uncommon configuration of players, but one work, seminal to the idea of a percussion quartet, was John Cage's Third Construction from 1941. Less way out to hear than one might expect from Cage, it required a heap of instruments on what looked for all the world like a large kitchen table groaning with a multitude of ingredients and four cooks working simultaneously.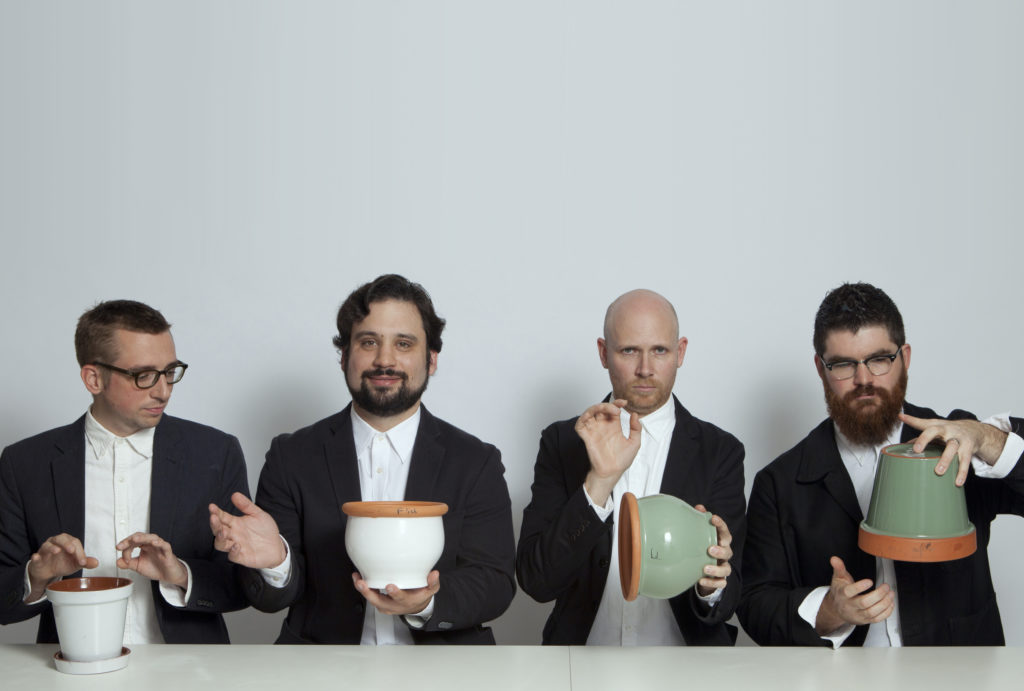 The impression was helped by the (tuned) tin cans which took a prominent part along with dozens more, from an ass's jawbone and a conch shell to more usual drums and cymbal. Most unusual and marvelously enjoyable to hear was the Lion's Roar, a large drum with a long string protruding from the middle of the drumhead, which, when pulled, worked a mechanism inside causing a loud groaning sound.
The music created was unexpectedly tuneful, soft to loud and rhythmically complex, as were the other works on the program. Steve Reich's "Mallet" Quartet used two marimbas and two vibraphones in three movements played without pause, the two marimbas creating a repeated underlay with the two vibraphones creating the melodies, though with sudden harmonic shifts to another harmonic base.
Glenn Kotche's Drum Kit Quartet #51 used no drums most of the time but all four performers playing the two marimbas. At one point, two suddenly had harmonicas in their mouths as well, then added drums and an instrument which gave a whirring sound. The group spokesman mentioned at the outset that this piece might have been subtitled "Raindrops," and indeed it might. Each note fell individually like drops, and the whole was reminiscent of the rain drums at the Cedar River Watershed Education Center with its computerized timing of raindrops creating a musical sound. Beautiful to hear!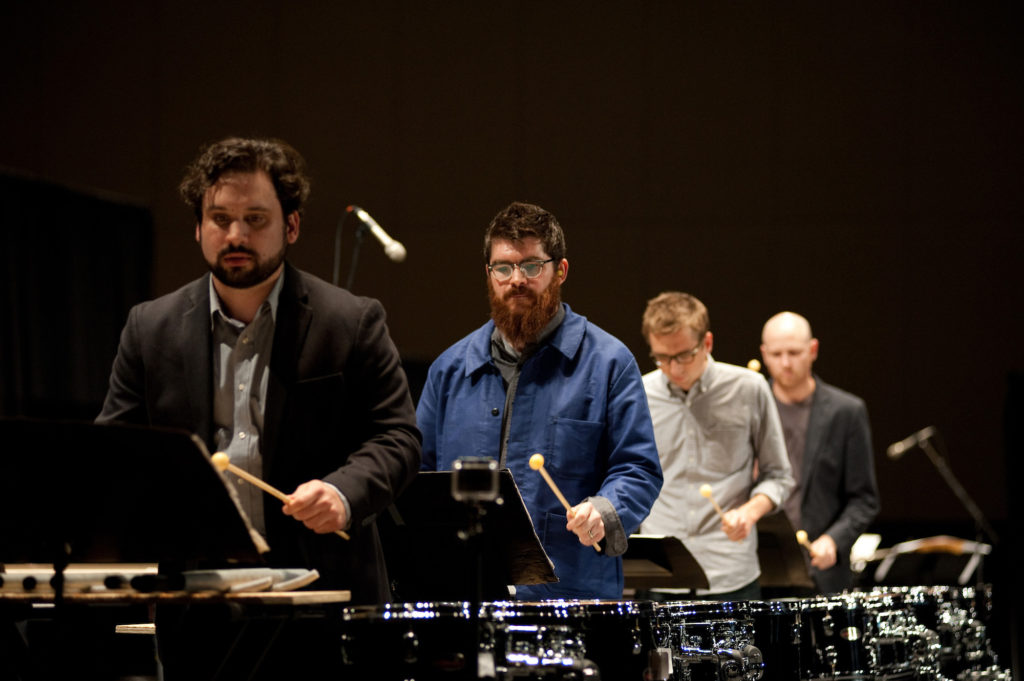 Last and longest, Bryce Dessmer's Music for Wood and Strings used four instruments he created and had built, called Chord Sticks. At a distance these were dulcimer-shaped wood, about 30 inches long, with strings which could be played by stroking with short bows, tapping with pencils, and scraping. The result, augmented by wood blocks and drums, was endlessly fascinating. Indeed, all the works played had a mesmeric, hypnotic quality to them which would then suddenly be interrupted.
Next at the World Series, on February 10, Russian-German pianist Igor Levit will make his Seattle debut with a program including Bach, Schubert, Beethoven, and Prokofiev.