Exuberant, elegant, exhilarating, extraordinary but elusive could describe the musical offerings at an early-February concert by Seattle Symphony, with one work from each of the past three centuries.
Music director Ludovic Morlot conducted Richard Strauss's tone poem "Don Juan" in a fast-paced, bright, let-it-all-hang-out performance of this work which portrays the brash ladies' man, yet without ever letting it overreach to bombast. Kudos to principal oboist Mary Lynch for her long eloquent solos and nice work, too, from acting concertmaster Elisa Barston.
Following came total contrast: Beethoven's Piano Concerto No. 2 in B-flat Major, with a much-reduced orchestra and the ineffable pianism of Yefim Bronfman. The beauty of his legato moments, his delicacy of touch, every run—fast or slow, loud or soft—like a matched string of pearls, with crystalline clarity in one area and a limpid clarity in another, the importance of internal lines brought out or faded back in the shaping of phrases, and the bright liveliness of this cheerful work overall: all was achieved with an unfussy approach, no showing off, just a fine pianist sitting down and playing.
As an encore immediately after, he played the second movement of Prokofiev's Piano Sonata No. 2, very different with many crossovers, but with as much ease, insight, and lack of fuss as in the Beethoven.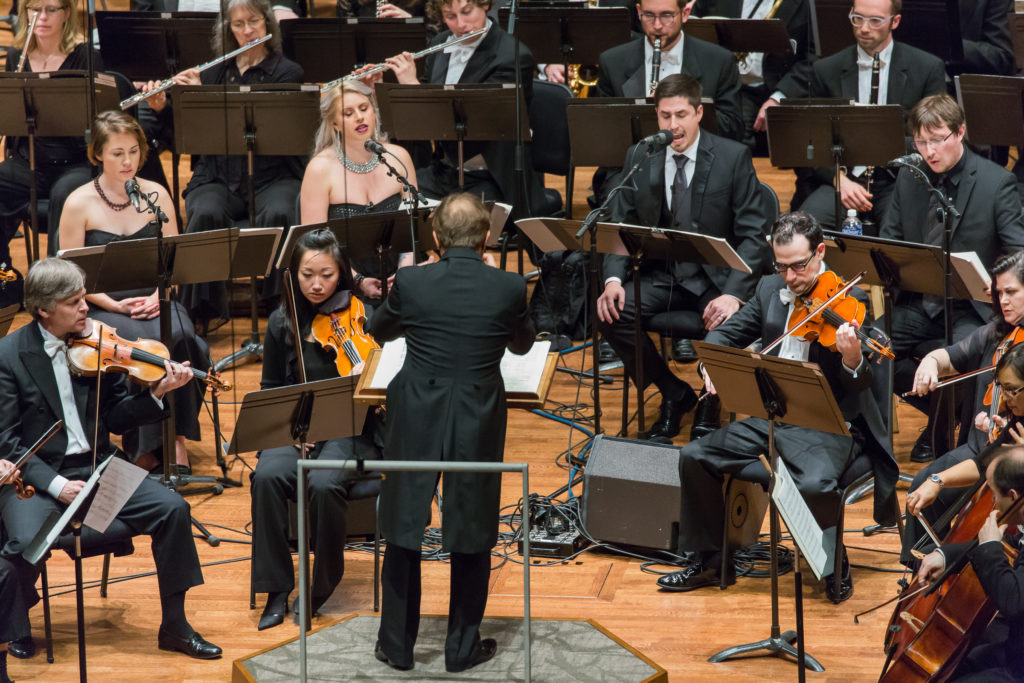 Last but by no means least came Berio's Sinfonia from 1970, an extraordinary, 37-minute work in five movements, in which it is supremely difficult keep the disparate elements together and for the musicians to know where they are without the strong direction of the conductor, which they got from Morlot.
It includes eight voices and was originally written with the Swingle Singers in mind. This week that part was taken by chamber singers Roomful of Teeth (the name apparently coming from the meaning of room as "chamber" and the toothy smiles of the eight singers). Berio uses the voices, both speaking and singing without vibrato, as another instrument group, like the brass or the strings, with their different ranges. They were interspersed in pairs throughout the orchestra, of which quite a few other musicians were also not sitting in their accustomed places.
The work might be likened to a twentieth-century abstract painting which at first appears to be made up of unrelated or repeated colored fragments but in which, as you spend time with it, you begin to see connections which knit it into a whole.
High sustained notes were interrupted by sharp short bursts of sound from brass or percussion, at others soft twittering in instruments or voices led to agitation and bits of phrases jumping out like "Keep on going," and "quite hopeless." It doesn't matter not to hear or understand the words, even in the second movement, which was composed as a tribute to the assassinated Martin Luther King, using his name. The longest movement, the third, uses the scherzo from Mahler's second symphony but snippets of other composers come in as well as many quotes from poets and writers, so that the Mahler is more a flowing underlayment often obscured.
It's a work that takes a lot of listening, but despite its length and lack of understandable format, it was never boring, always absorbing.