This weekend sees Will Smith and Martin Lawrence reuniting in Bad Boys for Life and Robert Downey Jr. stepping away from the Marvel Cinematic Universe for the first time in over a decade to talk to the animals in Dolittle. The latter has been getting flabbergasted reviews elsewhere; so we're all looking forward to Chris's upcoming take.
First, a reminder that SIFF's "The Restless Curiosity of Agnes Varda" series concludes this weekend at SIFF film center wither landmark 2000 documentary The Gleaners and I (Saturday, 2:30 pm) and the irresistibly charming 2017 Oscar-nominated Faces Places (Sunday, 2:30 pm) that finds the 89-year-old auteur traveling rural France with large-scale photographer JR.
Elsewhere, those aiming to complete their Oscars homework in the International Film category are in luck: Ladj Ly's pulse-pounding drama, France's official selection for the category, is playing on multiple screens around town (as well as on Amazon Prime).
Les Misérables (2019 | France | 102 minutes | Ladj Ly)
A small(er) town French cop's (Damien Bonnard) first day on the job in the big city as part of an Anti-Crime Squad provides an intense crash course in the tenuous power structures and simmering tensions of Montfermeil, the Parisian banlieue that once served as the setting of the title 1862 Victor Hugo novel. Riding along with his brash and racist partners in the days following France's World Cup victory, he navigates the overlapping worlds of kids from the projects, immigrant families, rival gangs, a reformed gangster turned spiritual advisor, and self-styled Mayor who uses his clout to attempt to keep the peace among the exurban poor. It opens as a humanist and largely non-judgmental survey until an arrest gone bad, inadvertently captured on film by a kid's drone, sets off a series of events where just everything goes as horribly wrong as possible. There's also, improbably, a subplot including a very cute lion cub that puts baby Simba to shame. And just when you, and the characters, start to catch a breath, the second day turns out impossibly worse.
The tone swings wildly as bad decisions spiral out of control, but the filmmaking is inarguably arresting throughout, making for a compelling update that shows that centuries-old themes of poverty and power are unfortunately universal. ☆☆☆
---
Below, Tony (TK) and Morgen (MS) round-up some other intriguing trippy and climate-related offerings opening around town this weekend.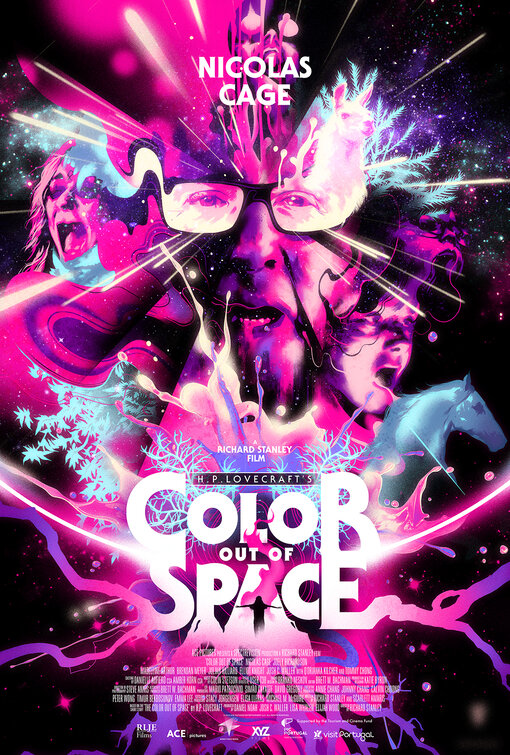 Color Out of Space (2019 | USA | 111 minutes | Richard Stanley)
A tsunami of positive buzz has preceded the latest directorial effort from British/South African filmmaker and noted eccentric Richard Stanley. It's an adaptation of H.P. Lovecraft's short story, and between the director and lead (Nicolas Cage), you can expect some hallucinatory fireworks. SIFF (in cooperation with local cannabis store The Reef), is turning the debut Seattle screening into a legitimate hullabaloo, including a pre-recorded Q&A with Cage and Stanley, bonus footage, Full Tilt serving ice cream to the first 100 people, a "Rage Cage" selfie photobooth, and more. To accommodate demand, SIFF's smartly added several other (ice-cream-less) screenings. (SIFF Cinema Egyptian, January 22 – 30) –TK
The Wave (2019 | USA | 87 minutes | Gille Klabin)
If reality-bending trip-out cinema is your thing, this chronicle of an insurance lawyer (Justin Long) dosed with a potent hallucinogen should complement a screening of Color Out of Space (see previous rec) nicely. (Grand Illusion Cinema, January 17 – 22) –TK
The Hottest August (2019 | Canada | 87 minutes | Brett Story)
This climate-change doc takes a decidedly impressionistic angle on its topic, as director Story focuses on specific, very colorful New Yorkers offering their views on the uncertainty, fear, and denial spurred by global warming. For the January 17 screening, UW staff scientist Oriana Chegwidden offers a 5:30 PM pre-film intro about climate change's impact on the PNW. (SIFF Film Center, January 17 – 19) –TK
Weathering With You (2019 | USA | 114 minutes | Makoto Shinkai)
A young man runs off to Japan for a better life, but finds out it's harder than he thought. He finally lands a job and meets a beautiful girl, but he has no idea what's in store. If this new animated feature is anything like Shinkai's previous 2016 hit Your Name then we're all in for a treat. A little supernatural, a little emo, a lot of drama. Looking forward to catching this one on a day where I feel like something silly and fun (who couldn't use a little more of that?) — MS