Before the Space Needle was invaded by aliens and the longest year of our lives turned into the longest week of our lives, we all looked back at the last year in movies and pronounced it very good, highlighting a total of 42 different films across our five individual lists (A letterboxd list for anyone playing catch-up). As a reminder, each of our favorites:
1. Nomadland | 2. First Cow | 3. Never Rarely Sometimes Always | 4. Matthias & Maxime | 5. Shithouse | 6. Palm Springs | 7. Minari | 8. The Nest | 9. Kajillionaire | 10. Lovers Rock
Chris's Favorite Movies of 2020
1. One Night in Miami | 2. Bacurau | 3. Crazy Not Insane | 4. Selah & the Spades | 5. The Traitor | 6. Ma Rainey's Black Bottom | 7. The Vast of Night | 8. I'm Your Woman | 9. 76 Days | 10. Borat Subsequent Moviefilm …
Tony's Favorite Movies of 2020
1. First Cow | 2. Mank | 3. Bacurau | 4. Selah & the Spades | 5. Da 5 Bloods | 6. Ma Rainey's Black Bottom | 7. Borat Subsequent Moviefilm … | 8. The Vast of Night | 9. Possessor | 10. Driveways
1. Sound of Metal | 2. Save Yourselves! | 3. First Cow | 4. Babyteeth | 5. Da 5 Bloods | 6. Saint Frances | 7. She Dies Tomorrow | 8. I'm Thinking of Ending Things | 9. Synchronic | 10. Black Bear
Morgen's Favorite Movies of 2020
1. The Painter and the Thief | 2. Bad Hair | 3. Black Box | 4. The Banker | 5. Little Joe | 6. Isi & Ossi | 7. The Forty-year-old Version | 8. Soul | 9. Dirt Music | 10. Words on Bathroom Walls
Josh: We really covered a lot of ground across our lists, which is really a reflection of just how many good movies were actually released in this weird year. If there's anything resembling a consensus pick, it's First Cow (with a landslide win of 3 votes – a first, second, and third place at that), which is especially on-brand homer selection for a Pacific Northwest-based arts and culture site. Great cow! Eve's greatness can't be denied.
After that, we have six movies that got two votes: Bacurau, Borat Subsequent Moviefilm, Ma Rainey's Black Bottom, Selah & the Spades, and The Vast of Night (each of which made Chris and Tony's lists — collusion? Ballot stuffing?); and Da 5 Bloods (Tony and Jenn).
Chris: Ha! It's funny how much overlap there was with Tony's and my list because our usual collusion was put on hold until the end of the pandemic. I think we colluded a few times in the spring or summer, but not for several months. For what it's worth, I deny any collusion and note that my list went up first.
Tony: I deliberately avoided reading anyone else's lists before compiling my own, so with Chris and I, it's definitely more of a "Great Minds Think Alike" element. That said, Chris's aptitude for clairvoyance and subtle interrogation should never be overlooked…
Morgen: I may have checked out others' lists before officially getting mine posted, but I already had films in mind at that point. The funny thing? I had a completely different list than anyone else aside from "additional nods". That's been kind of typical for me with this beautiful bunch of folks, and I'm not sure if that reflects badly (like my taste hasn't gained a refined palate quite yet) or I go after other styles and genres? Who knows, but I'm honestly glad I come out a little odder than the rest. Bad Hair is a great example of a highly overlooked film on my list that will hopefully get some clout come awards season. As for First Cow, I really enjoyed everything about it, but it just didn't have that top 10 feel for me. I'd be happy to see it win accolades  (as I expect it will) especially with the PNW ties, but I wanted to veer off the path a little and give some props to other works.
Jenn: I was so ready for Kelly Reichardt's scheduled appearance with First Cow at the Uptown too, an obviously-canceled mid-March plan! I think that one being on my list was always a foregone conclusion. Bacurau was a particularly close call for me too, in a different mood that might have made my list! But I'm psyched that I did get 8 unique titles in there.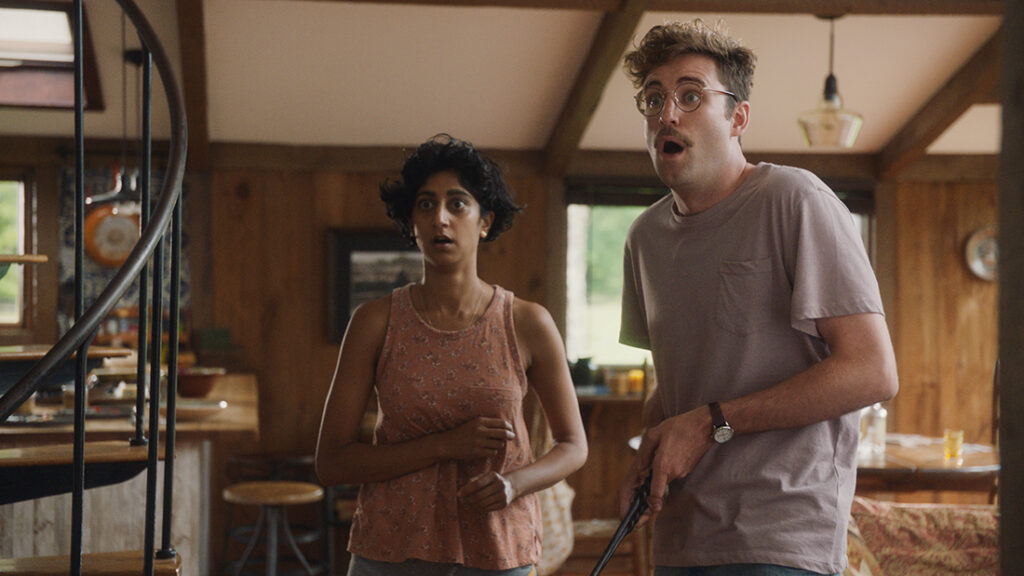 Sell us on one film from your list that we must watch?
Jenn: Save Yourselves! (The exclamation point is part of the title, but is also reflective of my enthusiasm for this movie!) It's an alien-invasion apocalypse story set within a relationship drama, with a tone that basically lands somewhere in the vicinity of mumblecore-adjacent hangout movie. The closest comparison I can think of is the Mark Duplass/Aubrey Plaza film from 2012, Safety Not Guaranteed (Colin Trevorrow's debut feature) – very different plots, but same ballpark. It stars Sunita Mani, who a lot of people know from either a spate of recent Progressive commercials or the "Turn Down for What" music video, and John Reynolds, of the excellent TBS/HBO Max show Search Party and the 2020 Duplass-produced Netflix Original oddity Horse Girl. It's also got fun little appearances by Brooklyn comedians Jo Firestone, John Early, Ben Sinclair (the High Maintenance guy), and the voice of Amy Sedaris! Still not convinced? Need some extra-textual details? How about that it's got a lady co-writer/director and was made on a green set (in the DVD commentary they note that they produced only one bag of garbage in the first week!). This movie just popped up as available to stream on Hulu sometime in the last week, so now many folks who may have shied away from a paid rental really have no excuse. It's pretty light, goofy fun, with a warm heart and an alien invasion. What's not to love?! Full disclosure, co-writer/director Alex Huston Fischer and I used to run in some of the same circles back when I lived in Brooklyn and we do casually know each other, but that's not why I'm so hyped on this movie. I really do just sincerely super love it!!
Josh: I'd also go with the indie comedy recommendation: went into Shithouse with skeptical-to-low expectations (silly title, sad white boy storyline), but left a huge fan of Cooper Raiff! There's no way to make the plot of this movie sound anything but twee and entitled — lonely guy missing his family, catching feelings for his RA, having a magical walk around campus, and finally starting to make friends — but it's so phenomenally well done on a very limited budget. And sure, maybe it hit a sensitive spot for this viewer who might have been (might still be?) compartmentalizing his reactions to not actually seeing people out in the real world? Just kidding, introversion is not a crime and Zoom is the best. Bring it on.
Morgen: I can't believe I'm saying this about a horror film (shouldn't this be Tony?), but I implore you to see Bad Hair. Not only is it available right now on Netflix, it's a fun yell-at-the-tv style horror flick, and it's stellar cast makes it unmissable. We need some levity in these crappy times and Bad Hair is just what the stylist ordered.
Tony: How do you sell a movie about a couple of guys in the Gold Rush era making pastries and selling them to miners? On the face of it, First Cow sounds like the toughest sell of any film I saw in 2020. But it's a heartwarming examination of friendship, an incredibly relatable study of the gulf between the haves and have-nots, surprisingly rife with suspense in places, and so evocative you can almost feel the moss encrusting the trees in the lush Oregon wilderness.
In a world shrunk and cramped by the unwelcome but necessary hermitage wrought by a global pandemic, First Cow managed to gently but resolutely nudge me into forgetting the inherent awfulness of 2020 by taking me back a century to remind me of what makes humanity simultaneously maddening, messy, and beautiful in the first place. Plus, as Josh already noted, it boasts one of the most charismatic cows in cinema history.
Josh: File under major regrets that I didn't get a Cameo from Eve during the A24 publicity blitz.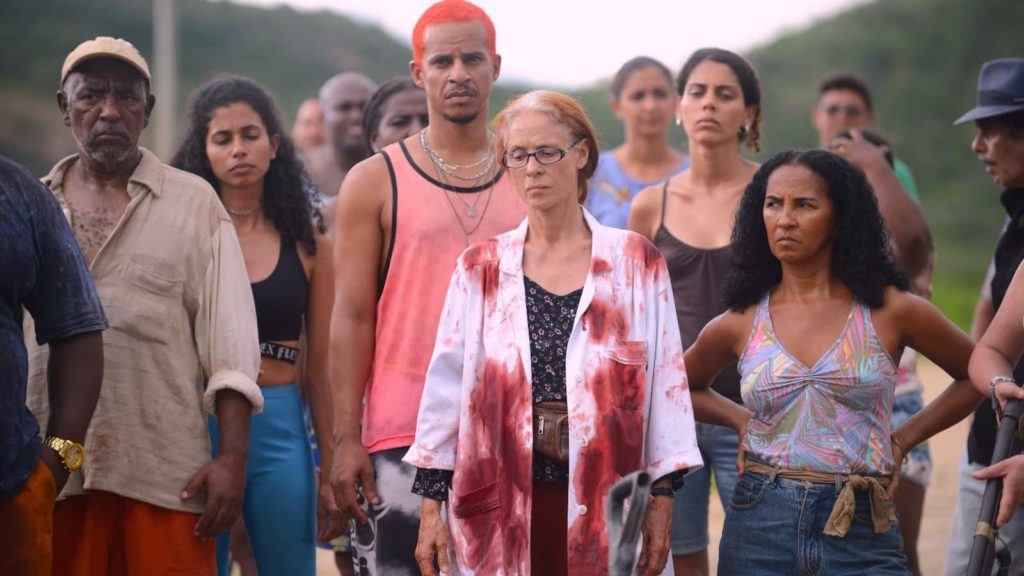 Agonizing cuts in list-making?
Josh: Cutting a list down to ten is always a bit of self-induced agony. I shuffled a lot of the tough choices into an honorable mentions section on my list, which is a time-worn cheat code for listmakers everywhere. I also struggled on which of the Small Axe films to include and ended up with Lovers Rock over Mangrove, in part because it was a bit less conventional and the vibe stuck with me much longer. Did anyone else have agonizing choices while paring down their favorites to a top ten?
Jenn: Primarily what caused me the most agony was simply that I hadn't yet seen everything that I knew was going to be my ultimate strong contenders, in some cases (Nomadland and Minari) because they won't even have general-public releases until dang February!! Already in the last week I've found the time to catch two more — Sylvie's Love and Monsoon — that I think likely would have edged out my bottom two if I had the list to do over today, and Possessor which at least would have made my honorable mentions.
Chris: This is probably a dumb thing to say but I was suprised at the EOY reception Bacurau received and almost left it off my list because I spent the year telling everyone it was great, assuming that it was a weird, Brazilian movie that people would love if they knew about it when it turned out to be a weird, Brazlian movie that everyone did love (including President Obama!). I don't mean that in a "I liked that band before they became famous" way but in a "maybe Vitalina Verala could use a little more attention" way. I ended up deciding that that movie is more obscure and a harder sell to most people, and Bacurau was a movie that I loved too much to leave it off my top 10 list (it was number two!).
Josh: I'm glad, too! It was just outside my list (again), but that movie was a real trip and it's fantastic to see that it made an impression. I mainly haven't seen Vitalina Verala because the main things I've heard about it were that it's very long, slow-paced, and must be watched in complete darkness, conditions under which I and my couch are likely to conspire against me in the nodding off department.
Tony: I very much shot from the hip with my list, going with my gut as opposed to an enormous amount of deliberation. My top four basically leapt out for me, but there was a lot of wiggle room on my bottom six. It wasn't until after I'd posted my Top 10 that I realized I'd unintentionally omitted a couple of movies that I honestly might have squeezed in had I deliberated just a little more — particularly Leigh Whanell's excellent take on The Invisible Man, and Sound of Metal — a movie that could have drowned in Disease-of-the-Week sappiness, but wound up being utterly absorbing, sharply-observed, and anchored by Riz Ahmed's great performance.
Morgen: As I mentioned in my top 10 post, while I may have seen films that I loved more, I wanted to give attention to works that affected me. The ones that stood out and made an impact in this really odd time in our lives. That meant giving more emphasis to actors/producers/directors of color and stories that brought these communities to light. So others, like Palm Springs, took a back seat even though I would watch that again and again. Really, it's the Groundhog Day of the 2000's without trying to be and we definitely need more feel-good, goofy movies like that right now.
Tony: There's also a ton of stuff I did not get to. I have yet to catch any of Steve McQueen's ambitious Small Axe films, and I'm a massive fan of the directorial output of Justin Benson and Aaron Moorhead, so I'm bummed I have yet to see Synchronic (glad I'm not the only worshiper of these guys' movies, Jenn). Happily, a lot of amazing-sounding stuff I haven't caught yet made it to your respective lists, fellow SunBreakers, so thank you in advance for the abundance of great recommendations. Hoping to catch up on a lot of them.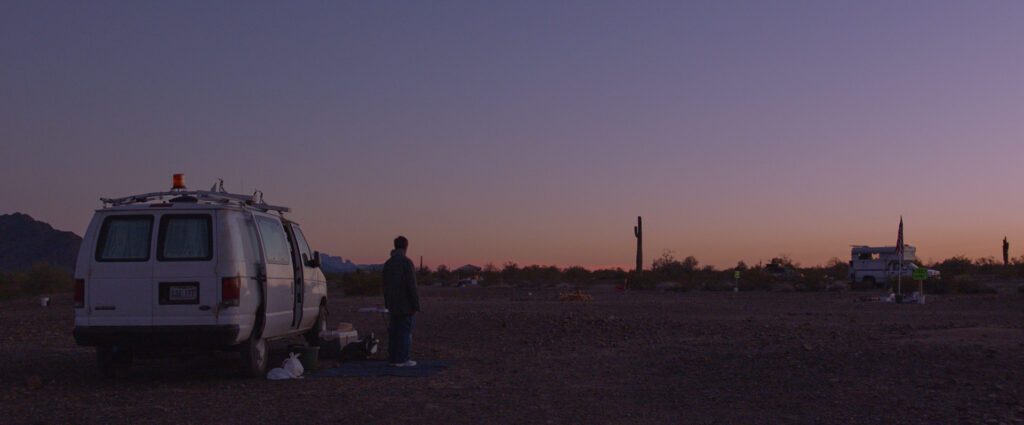 How was everyone's year in movie watching in general?
Chris: I think I mentioned this in a previous roundtable, but I had an unexpected day off from work on Friday, March 13, because my office closed the day before and I wasn't quite equipped to begin working remotely. My plan was to spend the day at the movies and I saw the passable Bloodshot with Vin Diesel and was planning on heading from there to catching a matinee of Bacurau at SIFF Uptown, but when I got back to my car, I saw a notification from the Seattle Times on my phone saying saying SIFF was closing their theaters effective immediately.
Jenn: In total I saw 21 movies in theaters before the world fell apart. 2020 was off to a such a good start: in January I traveled to California for my second year of working in the box office for the Palm Springs International Film Festival, which was a great experience where after my shifts I ended up seeing six really great films (mostly with filmmaker Q&As, including Marriage Story with Noah Baumbach, Laura Dern, and Adam Driver!!), and I also saw 1917 in IMAX while I was down there. The last 6 of my theater-going year were jammed into two March days (like Chris, I had unexpected time off work right before the theaters closed) so it feels like a six-way tie for the last one, but the actual final time I set foot in a movie theater in 2020 was for Fantasy Island. Haha.
Tony: The last two movies I saw in theaters were Birds of Prey, which thoroughly entertained me, and Call of the Wild, which, um, did not. And like Chris, I was looking forward to catching Bacurau at the SIFF Uptown (I was hoping to catch it the week of March 15, myself), but COVID had leveled its body blow to cinemas all over the country by that time.
Josh: The last movie I saw in a theater was an afternoon press-only screening of The Burnt Orange Heresy way back in early March. Not too bad compared to some of your last looks! Even then, it felt a bit questionable, but I had the time open and had already RSVP'ed. I admit that I was relieved to be the only person who showed up, making for a very socially-distanced viewing, but also a stark omen of Things to Come.
Morgen: The last movie I saw in the theater was The Photograph which was well worth the time but didn't hit my top 10 list of the year. Two incredible actors, writing with an arthouse aesthetic but a wider appeal, so at least I had a happy last encounter with public cinema.
Jenn: It definitely became a year of experimentation with the home setup and with the idea of "watch parties" ("Netflix Party" and the like – watching something virtually with a geographically-disparate group with text comments running down the side of the screen); that was big for the first few pandemic months but feels like it fell off sometime in the summer. I sucked it up and got a long HDMI cable so that I could comfortably stream web page stuff from my computer to my TV (though anything that can play from my Roku or my blu ray player is still my strong preference, this started to feel like a necessary addition), and I may or may not have exchanged a few new streaming-service passwords with a network of friends to make sure all my bases were as covered as possible. In the end according to Letterboxd, I watched over 600 titles this year (that's mostly feature films, but does include some shorts, series, comedy specials, bonus features etc) – my previous record was well below 450 so I guess that's my big accomplishment for 2020.
Tony: My home movie-viewing rig is the same as it's always been–a decent smart TV, a wi-fi box, and a region-free blu-ray/DVD player. I know I'd benefit from what you did, Jenn, if I ponied up for the appropriate HDMI cable. But my current setup still allots me scores of streaming channels, and a lot of deep imbibement of quality physical media.
Josh: The MoviePass Era drastically eroded my skill for watching movies at home to the point that in previous years, I only saw about 1% at home vs. in theaters. The pandemic has taught me to get slightly better at home viewing out of necessity and thirst for New Content. I've found that watching with noise-cancelling headphones, turning off the lights, and socially distancing myself from my phone has helped to improve the experience. The major bright side of home/screener viewing is that it's much less obnoxious to jot down some notes while watching.
Chris: My movie watching at home was fine, or started off so, but I soon developed severe cabin fever and went in and out of depression a few times in the summer and fall. I was basically watching true crime documentaries on TV that my girlfriend could watch while I cross stitched (my new pandemic hobby), or movies I was reviewing. It turned out that eight of my top ten were movies were movies I reviewed here, and a ninth (The Vast of Night) I had the screener for but couldn't find a way to write a review that made sense and got across what I wanted to say about the movie.
Jenn: It went through such an evolution! Pretty quickly after theaters (and all my out-of-the-home work) shut down, I recognized the opportunity with all this mandated time stuck at home to do some serious film catch-up viewing, and I took some deep dives into several directors' filmographies I'd been meaning to explore more fully (Eliza Hittman, Kelly Reichardt, Amy Seimetz, Cheryl Dunye, the Safdie Brothers, Sam Mendes, Yorgos Lanthimos, David Fincher, Spike Lee, Mike Leigh, Charlie Kaufman). I participated in a few of the early film fest-lite editions that put content up for free (We Are One Fest, SXSW, Palm Springs Shortfest; also my friends put together a week-long virtual event called "Udo Fest" that culminated in a screening of Bacurau then a Zoom Q&A with the man himself!). Then in September I was proud to join Tony in covering Local Sightings as my first contribution to The Sunbreak, and in October I was lucky enough to work for the virtual fest NIGHTSTREAM, a Voltron of a festival created out of the ashes of 5 horror/genre fests that couldn't hold in-person editions this fall, including our basically-hometown North Bend Film Fest. That was awesome.
Josh: My biggest movie binge was while virtually attending NYFF. I usually go to some fall festivals (miss you, Telluride and Orcas) so I didn't mind splurging on a decent slate of virtual viewing (including Nomadland and Lovers Rock, which hung on to find places in my top ten list). Lincoln Center's film platform was really easy to use and I appreciated that screenings were somewhat time-limited, which really helped to avoid procrastination. I supplemented some of the autumn festival fare from Middleburg (Minari) and Mill Valley (The Father, One Night in Miami), so that was a fun way to get early looks at what turned out to be some of the better films of the year.
Chris: Another thing that was difficult for me was figuring out what movies are coming out when and where. There didn't seem to be (for me at least, others may have found something else) a regular place I could go to see "this is what's coming to Netflix, Amazon Prime, Hulu, etc…" IMDB and RottenTomatoes seemed to be really inconsistent.
Josh: At least for the site, I think we've tried to time reviews to when people here can see them, but it has gotten really complicated and it's an ever-shifting landscape as the studios adjust. I've mentioned a few movies that I saw during limited runs or via screeners to people and then feel really bad when I realize that they aren't out yet. Or are only showing in a theater somewhere else in the country where they're taking Covid less seriously. Or are maybe coming out on VOD or some platform in a week or two. JustWatch.com is your friend! Most of the time.
Morgen: I'll be honest, theater-going was never all that important to me until I started making it a ritual. Seeing films at Seattle International Film Festival was a treat and I loved the bigness of it all, the grandeur, but it felt like that was due to the festival aspect rather than the theater experience itself. There were some films I wanted to see in theaters for the explosions or intensity but for the most part it made no difference. Then I started making a habit of going (I was a freelancer in the before-times, so I had the flexibility to go in the middle of the day). I loved spending an hour or two nearly alone in a huge space with all my attention directed at this beautiful big screen. So, now, I just accept my current circumstances and hope that some theaters are still standing when we crawl out of our caves as it were.
Tony: I've never taken seeing a movie in a theater for granted: It's still a singular, immersive, near sacred experience for me, so having it torn away has been little short of traumatic. I just hope with all my heart that Seattle's wonderful stable of indie theaters can weather the storm.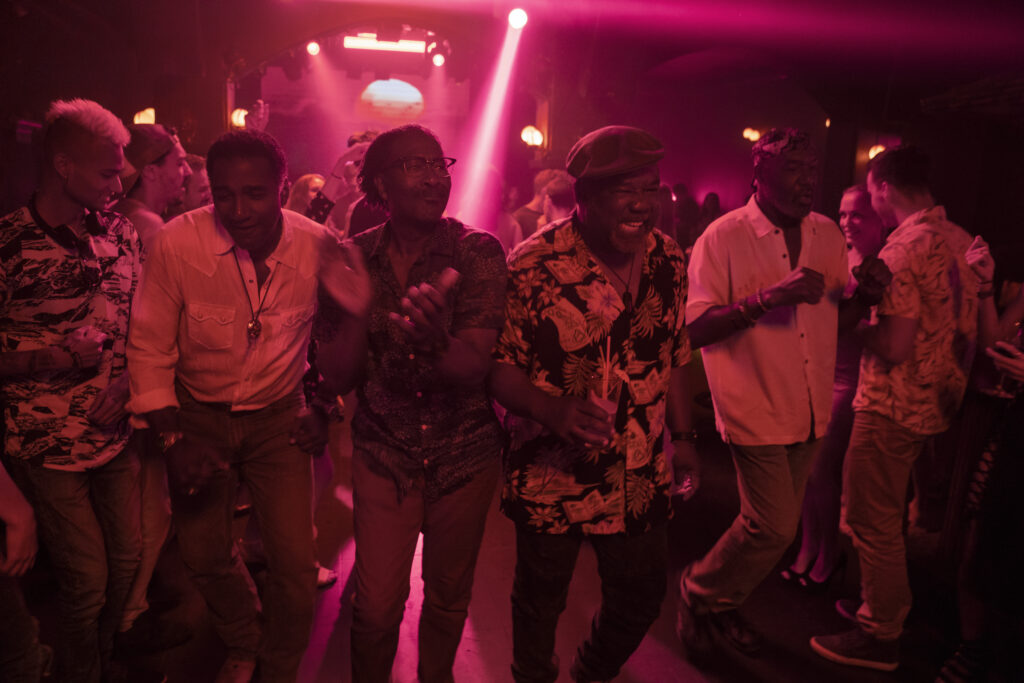 We only picked our top ten overall films – any best performances to call out?
Jenn: I learned Eliza Scanlen's name for the first time this year – she did some remarkable work in my #4 film, Babyteeth, walking a tightrope between dangerously naive but mature enough to face her own mortality – and she also had a strong role in Antonio Campos' The Devil All the Time AND played Beth in Little Women (which came out in 2019, but I didn't see it until January). And in only one of those three movies did she get to keep her real Australian accent!
Josh: I'm so glad that a couple of you put Da 5 Bloods on your year-end list. It made it on mine for our mid-year check-in and I really hope that its performances and direction don't get overlooked when Oscar Season comes around. Delroy Lindo, in particular, is a tremendous force and deserves all the recognition in the world.
Jenn: I'd also like to mention that I think Pete Davidson did a superb job and some real growing up in The King of Staten Island. Good for him.
Morgen: Hmm this is a tough one. My top 10 included a couple films I only saw a week before drawing it up but 40 Year Old Version was one I just couldn't pass by. Maybe it was the true-to-life script, but Radha Blank was powerful. Obviously talented and overlooked, it was obvious she was just playing herself but in a way that felt more universal than a personal story-telling. Lets just say it hit close to home. I ended up seeing the Assistant after my list was posted, but in this slow churning film was the insecure version of us all so well delivered by Julia Garner. The nuances of her frustration, fear, offended sensibilities, it all came through in simple facial expressions which was further accented by the barebones script.
Tony: It was so harrowing I doubt I'll ever watch it again, but I'm glad I saw Dean Kapsalis's very well done psychological drama/horror film, The Swerve. Its wrenching effectiveness hinges on the amazing performance of Azura Skye, the film's lead. It's one of the most nuanced, committed, riveting renditions of psychological breakdown I've seen from an actor in a long time.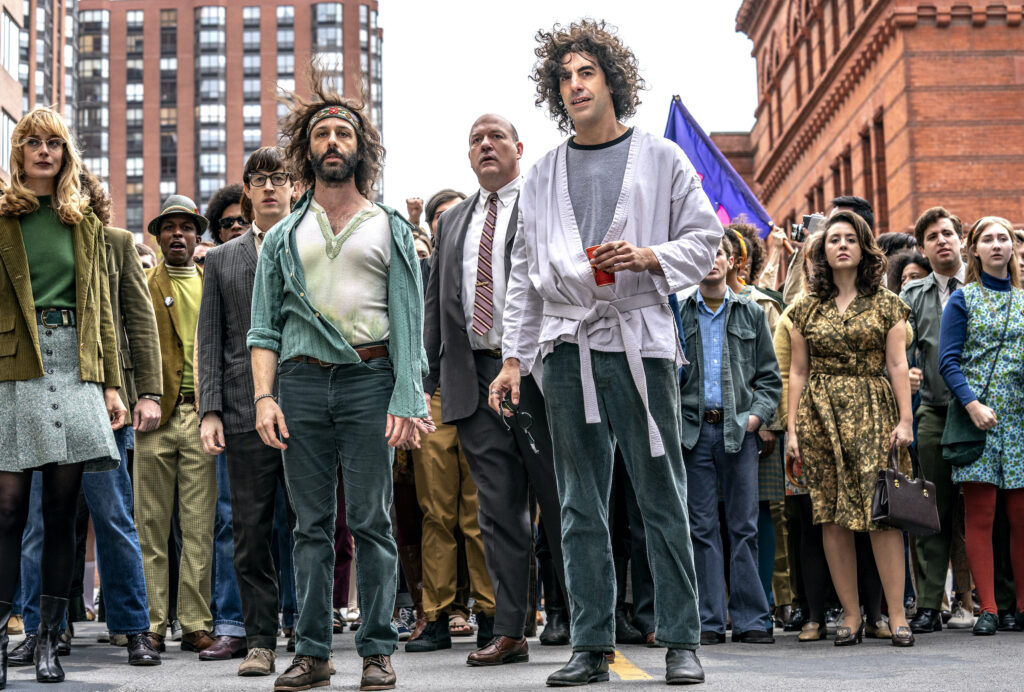 We each picked top ten best films – any major disappointments?
Morgen: I was excited to see a specifically gay-themed Christmas romantic comedy in Happiest Season, but was hugely disappointed by typical tropes, an annoyingly over-the-top gay male best friend (even so, Daniel Levy stole the show), and self-hating closeted lead character. I appreciate the attempt but it fell sorely flat.

Chris: I don't think I've ever gotten madder at a movie than I did watching Hillbilly Elegy. Patch Adams was probably the last movie to make me that upset, and it came out over twenty years ago! I probably knew deep down that I would hate it because I think J.D. Vance is a contemptible person anyway but thought that Amy Adams, Glenn Close, and Ron Howard might create something watchable. Boy, how wrong I was! How Ron Howard went from someone I found to be fairly harmless, a competent (but not outstanding) director that handles blockbusters well, to someone that should be publicly flogged is one of 2020's many disappointments.
Josh: Aside from feeling like ill-fitting artifacts from another timeline, both Irresistible and Antebellum were socially-minded films whose twists and storytelling choices annoyed me so deeply. Sometimes, maybe just tell your story in order. It's not a crime! Along those lines (sorry, Jenn) I'm Thinking of Ending Things made me want to end things for myself (or at least throw the AppleTv out the window) as the plot began unspooling and the "twist" became evident. I like to think of myself as someone who loves Charlie Kaufman, but only when someone else directs. For my taste, his loathing of his sad sack protagonists often feels like it extends beyond the screen to his viewers, but I get why a lot of people have swooned over it in general and Jessie Buckley's outstanding performance in particular. Give her an Oscar for channeling Pauline Kael, I promise not to be mad about it.
Jenn: I do generally prefer to keep things positive – while I did actually mostly like a few things others are mentioning in this section, and I didn't much care for a few that others have listed as favorites, that doesn't feel good to dwell on. But I was pretty let down in various ways by The Hunt, Artemis Fowl, The Gentlemen, and The Binge. I don't know that I can summarize what I was so mad about with each of those in few enough words to fit here, so I linked there to my Letterboxd reviews of each, but basically I thought each might be cool and they ended up all being nonsense. I'm maybe the most mad about the SXSW doc entry TFW No GF, which purported to be like an academic exploration of a dangerous subculture but really read more like a gross uncritical endorsement of it – but luckily Feels Good Man later swooped in to right that wrong pretty effectively.
Morgen: To reiterate Jenn's thoughts, I was also not impressed by The Gentlemen and not at all surprised by how I felt (kind of gross to be honest) when leaving the theater nor the gaggle of dudes regurgitating terribly sexist and derogatory jokes found in the film as I walked out into the night air.
Morgen: FWIW, I got one of the more intense glares of the short in-person moviegoing year from a woman ahead of me on the escalators on the way out of the Gentlemen when she overheard me saying it "fine, I guess". She and my friend spent the rest of the long zig-zag descent through the Pacific Place atrium trying to convince me that it was everything one could possibly want from a Guy Ritchie movie. Can't argue with the tracksuits though!
Tony: I was pretty selective with my contemporary movie viewings, so there wasn't a lot that let me down. The most prominent case (for me, at least) was Aaron Sorkin's Trial of the Chicago Seven, which felt smug, self-congratulatory, and rotely Oscar-bait-y to me. It could've been gold, had it jabbed at today's repressive political environment with a less heavy hand. Instead, it was just a sobering reminder of why I found The West Wing so damned insufferable.
Josh: I'm somewhere between you and Chris on that one. I found a lot to like in it and can totally see why people loved it, especially given the timing of its release. But repeating my previous Charlie Kauffman gripe about screenwriters as directors, I find that I love Sorkin's screenwriting so much more when someone else is in charge of direction. For my tastes, they both benefit greatly (in completely opposite ways) when someone outside of their heads is in conversation with their scripts and casting decisions. As an illustration, it's just the wildest of wild Sorkin that the emotional climax of the film is when we find out that Abbie Hoffman has ideas about Tom Hayden's use of possessive pronouns and vague noun modifiers. But Sorkin's gonna Sorkin and you kind of need to roll with it.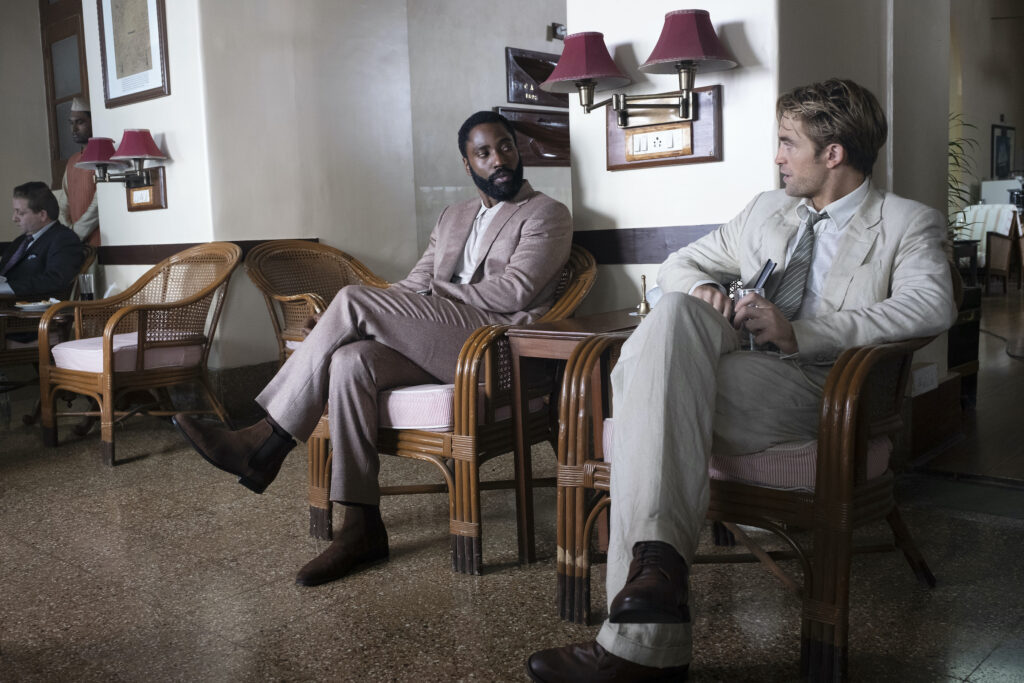 Jenn: Oh I was also super mad about TENET, which we haven't mentioned; although the movie was fine puzzlebox nonsense I was very much looking forward to and probably would have enjoyed more under other circumstances (so I'm mad that those circumstances were taken away from me!), I think Christopher Nolan's insistence on a full theatrical release, which seemed to be single-handedly responsible for forcing movie theaters into opening or staying open mid-pandemic (pushing some into ultimate financial ruin when audiences weren't yet ready to come out in large enough force to be sustainable, and others into having to open even without actually safe conditions in place), was a disastrous and unforgivable act of hubris.
Josh: I totally agree with you about being mad at Christopher Nolan for killing movie theaters, but I can't be mad at the movie itself. It's fully nonsense (and the last third is inexcusably incoherent), but for once it seemed like he wasn't really even trying to be that deep or seat the motivation in a place of overwrought emotional trauma; so it was much easier for me to just let it roll by as a big-budget non-franchise thriller with a bunch of sweet setpieces and yet another weirdo performance from Robert Pattinson.
Jenn: Oh yeah I'm mad *about* TENET, not *at* the movie itself, although the circumstances of its release definitely did affect my enjoyment of it. On the overwrought emotional tip, I did think Elizabeth Debicki's "including my son?!" was the most unintentionally funny line of 2020 cinema.
Josh: agreed, the script is such a mess! I can't believe Nolan made those actors say all of those words out loud. It's amazing somehow and I really enjoyed watching it despite all of its flaws.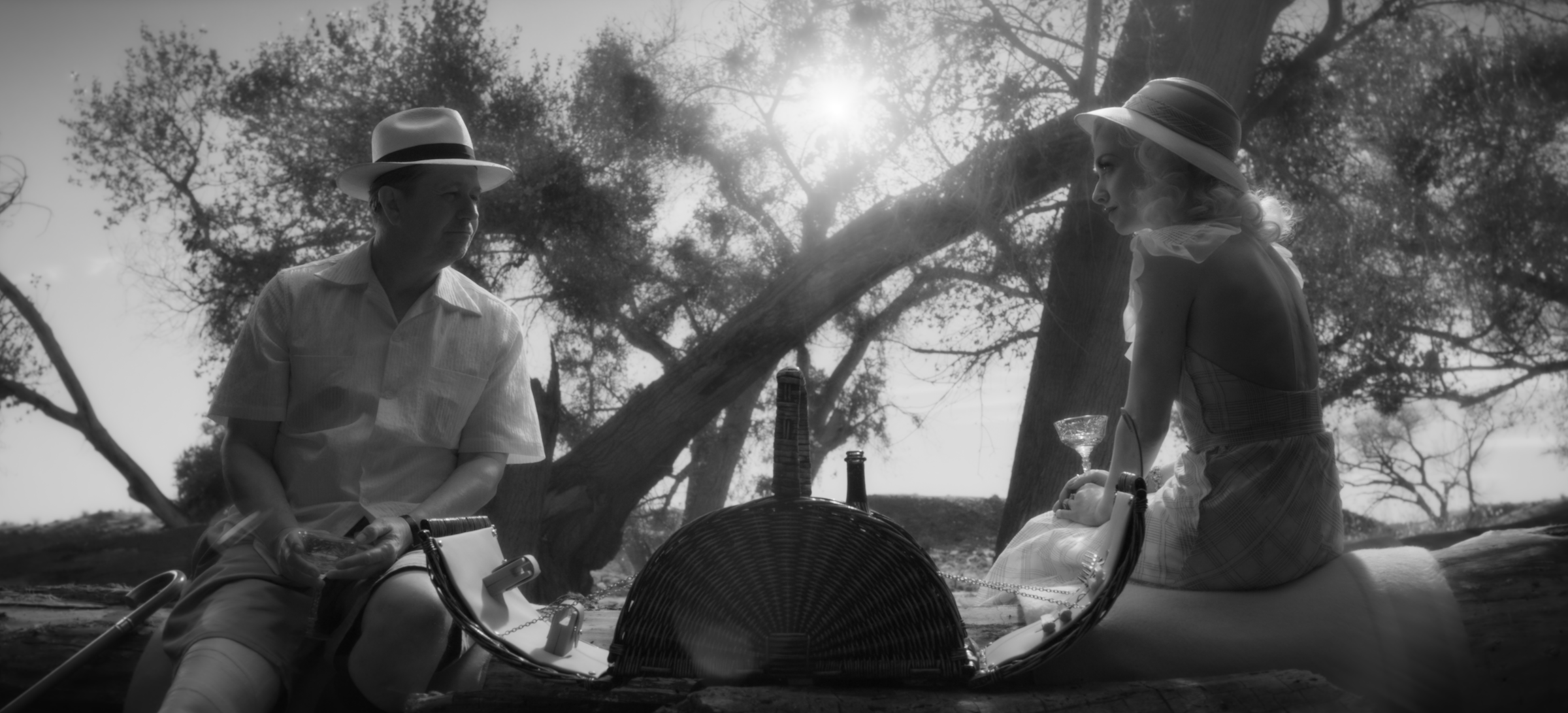 We only picked our top ten overall films – anything else you'd like to call out before we call this a wrap?
Jenn: My list was embarrassingly short on both documentaries and foreign films, despite the fact that like any other year, I watched and loved a lot of each. Two of my favorite docs of 2020 were Dick Johnson is Dead (which I did touch on in my honorable mentions) and Other Music, a lovely elegy on one particular NYC record store and the culture of physical media collecting at large. Of my favorite foreign stuff (which I'm defining as both not set in America and not primarily in English), besides the aforementioned Bacurau, I was particularly knocked over by Pablo Larraín's Ema, an audacious Chilean dance-focused relationship drama with intensely flawed characters, as well as the radically feminist Turkish thriller AV: The Hunt (which screened during NIGHTSTREAM; I don't think that one's had a wider release yet but I strongly recommend looking out for it!).
Tony: It's just another shout-out to a movie I've already singled out on my list, but David Fincher's directorial work on Mank is sweeping, romantic, flawed, and deeply personal. And dear Lord in Kodachrome, is Erik Messerschmidt's cinematography ravishing to look at.
Josh: Yeah, I'm surprised that Mank didn't get more chatter. Netflix didn't send out screener invites (at least not to local media like us); so by the time I got around to seeing it, I felt like I'd missed the wave of Mank Takes. It was a nice surprise that it didn't get so much into the fight over screenwriting credits in Old Hollywood, but instead delved into the politics of the era (hello, Bill Nye the Science Guy, unexpected cameo of 2020) that motivated Citizen Kane in the first place. I wasn't crazy about the bedridden framing device and kind of agree with the criticism that Gary Oldman is decades too old a man to play Mankiewicz, but can't deny Fincher's skill as a director. The scenes between Oldman and the ever-luminous Amanda Seyfried as Marion Davies, particularly walking around San Simeon and around the estate's zoo at night, are like something out of a dream.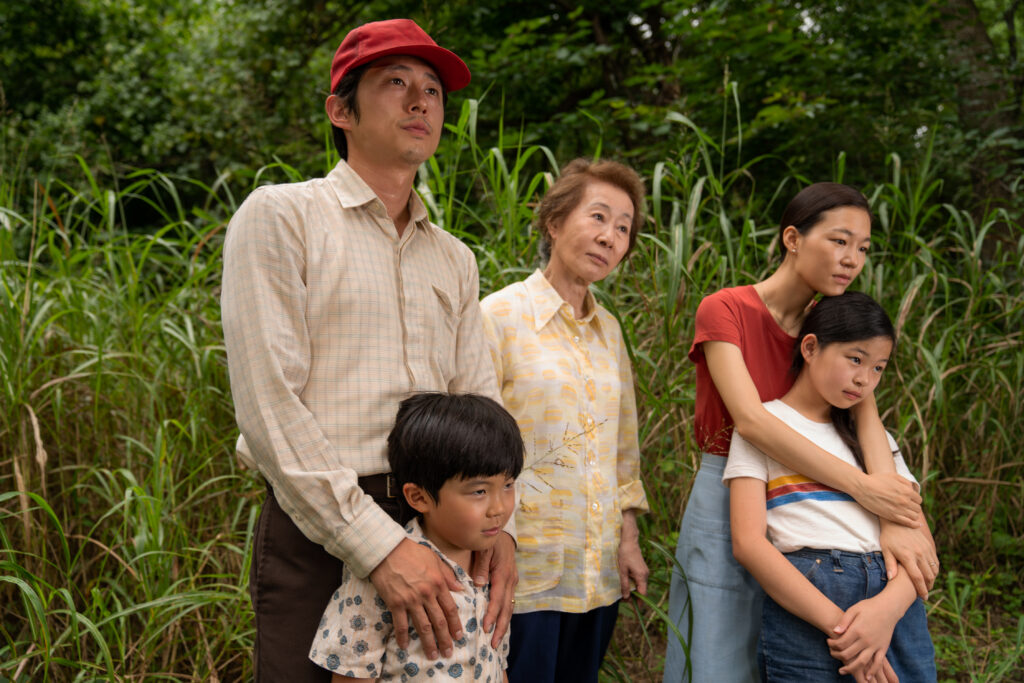 What are you looking forward to catching up with in January?
Morgen: There are quite a few films that I'm still eager to see before awards season is upon us so I'd like to come back to that question later. I'd be remiss if I didn't take a moment to express my frustration and even a bit of anger at the distributors of some highly-lauded films. Still in the throes of a pandemic, both Nomadland and Minari will be released only in theaters early 2021. I won't be viewing them until they're available on VOD; seeing a film, even a great one, isn't worth someone's life.
Josh: I joined Seattle Film Critics Society this spring and holy cow was I ever unprepared for the deluge of FYC screeners that would show up in my inbox and under my mailbox. They (we?) pushed back nominations to be closer to the Academy's timeline; so January's going to be a major cram session! Sound of Metal is probably the most egregious omission when I look at metacritic's survey of critics lists. Along with the Painter and the Thief, it's the only number one across all of our lists that I haven't seen; so I've put both of those at the top of my stack, which is now a literal stack of discs. If only I remembered how to plug in my DVD player.
Beyond that, I'm looking forward to seeing how Sundance pulls off their virtual festivities later this month. NWFF had originally been named as one of their "satellite screens" to bring the shuttered festival from the mountains to local cinemas, but given the pandemic precautions it's going to be an at-home experience for Seattle. From what I can tell, the experience looks like it'll approximate a film festival with time-limited premiere blocks, complete with social waiting rooms (and some repeat screenings). I got a pass and picked out a dozen or so premieres of movies that I know almost nothing about, so it should be a fun dive into new movies.
Chris: 2021 is definitely the year I push to meet the SFCS criteria! For January, I'm looking forward to The Dissident, a documentary about the slain Washington Post writer Jamal Khasoggi and hoping Promising Young Woman offers some opportunity to be seen hyper-locally (in my home). I'm willing to bet there will be a ripped-from-the-headlines made-for-TV reboot of Mommie Dearest with Richard Karn playing John Roderick coming out before 1/31. Yes, I am trying to will that into existence.
Jenn: My MOST-anticipated catch-up stuff doesn't have releases I expect to have access to until February at best (Nomadland and Minari), but I do have an intense list of films on streaming services I still hope to spend time with ASAP as well. The top of that list includes Matthias & Maxime (Mubi), Crip Camp (Netflix), His House (Netflix), The Painter and the Thief (Hulu), Lucky Grandma (Kanopy), and Zombi Child (Criterion Channel). Hoping Promising Young Woman, Ammonite, Another Round, The Personal History of David Copperfield, and The Twentieth Century cross my path soon too. Oh and One Night In Miami goes up on Amazon Prime on January 15th, and Ramin Bahrani's The White Tiger hits Netflix on January 22nd!
I also bought a few Sundance individual tickets for the end of the month, so really looking forward to that, as well!
Josh: Can't wait to talk to you all about Promising Young Woman. Carey Mulligan's performance is something else and the movie is a high wire act of twists of plot and tone. I don't want to say much more, but I think that all of it will be "in the conversation" once more people have had a chance to check it out on demand.
Morgen: All those films that I haven't caught yet (and available to view safely via VOD) is where I'm setting my sights. I'm with Josh on Sound of Metal. I've been holding off watching it; considering it seems pretty emotional, I have a feeling I need to be in the right headspace to really appreciate it. Promising Young Woman, Crip Camp, One Night in Miami, and Minari (once available via VOD) are also on my highly-anticipated list and I can't wait.
Tony: I really want to catch Synchronic and Nomadland this month, but a lot of my most anticipated 2021 movies make their bows later this year. And without going into spoiler turf, a lot of them will likely look phenomenal on a theater screen. Fingers crossed that we'll get to experience at least some of them that way.
Josh: That's something to look forward to: big screens and vaccines. Let's do it, 2021!